Morgan Stanley Grows Footprint In Australia and 2 More Heavily Traded Stocks to Follow
Morgan Stanley (NYSE:MS): Current price $25.46
Knowledgeable sources report that Morgan Stanley Infrastructure Partners, which oversees a $4-billion global infrastructure fund, is building up its presence in Australia. The former chief of the financial institutions group for investment banking at Credit Suisse (NYSE:CS) Mark McLean,will head Morgan Stanley Infrastructure Partners' Australian team. The fund's ongoing investments include Southern Star Central Gas Pipeline, which is a transmission and storage facility supplier for metropolitan areas in Missouri, Kansas and Oklahoma, and Affinity Water, a United Kingdom-based water firm which services over 3.5 million people.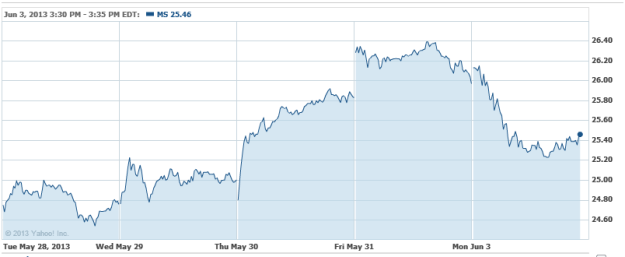 EMC Corporation (NYSE:EMC): Current price $24.68
The number-one maker of storage computers in the world, intends to issue its first bonds since 2007 through a three-part offering. EMC will sell five-, seven- and 10-year notes in a benchmark issue, typically a minimum of $500 million, said an inside source. Proceeds will be used to pay back its $1.71 billion of 1.75 percent convertible debt maturing in December, according to a Monday regulatory filing. The new bonds are the firm's first since it issued the convertibles in February 2007, according to data from Bloomberg.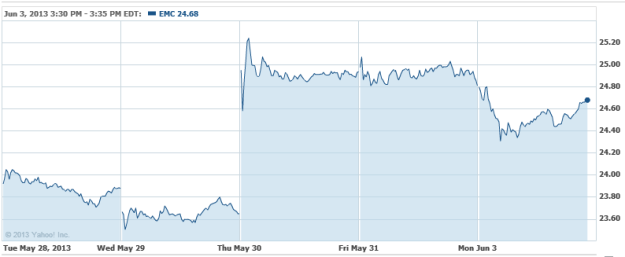 JPMorgan Chase & Co. (NYSE:JPM): Current price $54.07
Chase has appointed the veteran banker Erik Langeland to lead its middle market banking expansion into the Central Valley, which includes the Sacramento region, where he will be based. He will concentrate upon building a team of local banking professionals who will serve businesses in the region with annual sales of between $20 million and $500 million. Head of Chase Middle Market Banking in the West Paul Kaufman commented that "the Central Valley is an extremely attractive growth market with its large population and thriving business industry. Erik's extensive Commercial Banking experience working with middle market companies, combined with his proven leadership and management skills, position him well to grow our middle market business here."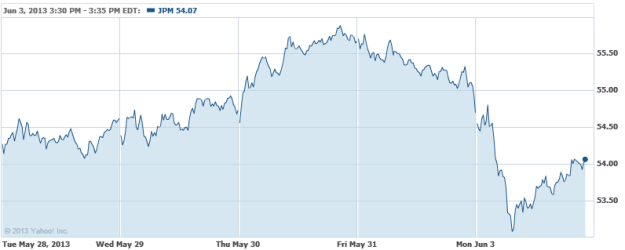 Don't Miss: Surprise! Bank CEO Pay Back, Bigger Than Ever.