Morgan Stanley Loses LNG Traders to Glencore Xstrata and 2 Other Hot Stocks to Watch
Morgan Stanley (NYSE:MS): Current price $27.00
The commodities trading major Glencore Xstrata has recruited a four-person team of LNG traders in London and Singapore away from Morgan Stanley, which is in the process of lowering its commodity trading. According to some dealers, the act could ignite a second series of new entrants who are enthusiastic in exploiting price differentials between the Untied States, European and Asian gas markets. Liquid natural gas is among the most rapidly-growing commodity markets, while increasing volumes of super-cooled gas are shipped from Nigeria, Qatar, Indonesia and other countries.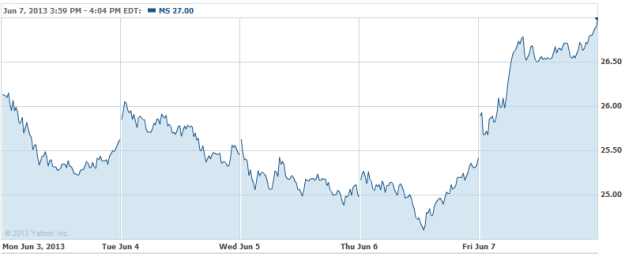 Qualcomm (NASDAQ:QCOM): Current price $62.10
Qualcomm Technologies, the business unit of Qualcomm, will provide its new Snapdragon 800 processors to Microsoft Corporation's Windows RT 8.1-based tablets. The Snapdragon 800 quad core chipset supports 3G/4G LTE modem with ultra HD graphics, together with quicker clock speeds of as much as 2.2 gigahertz per core. Beyond that, it offers better battery life; users of the new operating platform will also obtain free updates during the second half of 2013 from the Windows Store. Windows devices joined with Qualcomm's Snapdragon 800 processors will also appear during that time.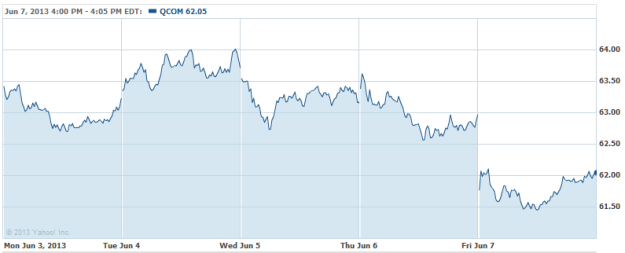 BlackBerry (NASDAQ:BBRY): Current price $13.86
T-Mobile U.K. had tweeted Thursday that BBM will indeed be available for iOS and Android by June 27, even including an image of a BBM conversation running on a Samsung Android phone. However, that tweet has now been taken down, which makes the accuracy of the information somewhat dubious. A BlackBerry representative has now told CNET, "That date is completely inaccurate; we have never indicated a specific date."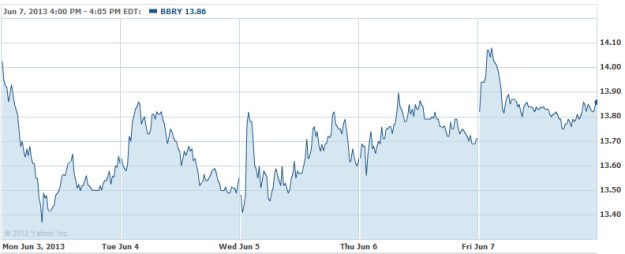 Don't Miss: Is Money Still a Taboo Topic for Couples?