MUST READ: 2011 Market Outlook Report by Jordan Roy-Byrne, CMT
Our Premium investing expert Jordan Roy-Byrne, Chartered Market Technician, has just released his highly anticipated 2011 Market Outlook. This 36-page report is full of in depth analysis and charts covering: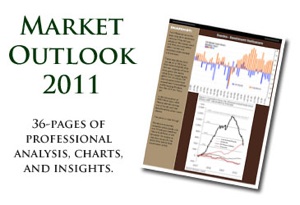 36-pages of Well Researched Information, Deep Analysis, and Proprietary Charts
Coverage of Major Indices for US Stocks Emerging Markets
Coverage of Intriguing US Stock Sectors
Coverage of Bonds and Interest Rates
Vast Coverage of Commodities and Hot Commodity Sectors
Professional Technical Analysis and Analysis of Fund Flows and Sentiment
Proprietary Recommendations for 2011
and More!
Last year, Jordan gave readers a major heads up for incredible investments in oil, commodities, gold, silver, and much more. If you want to get an edge over other investors in 2011, simply click here to get your report now!