Nader to D.C. Mayor: Don't Listen to Wal-Mart Lobbyists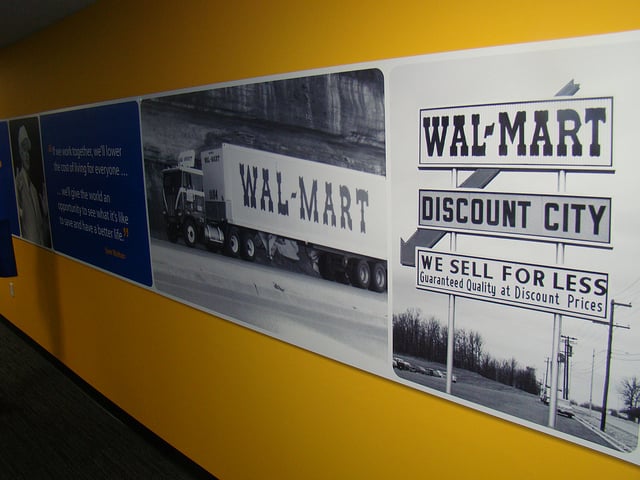 Ralph Nader — the five-time third-party presidential candidate — is adding his voice to the growing discussion over the wages Wal-Mart (NYSE:WMT) pays its employees.
Employing 1.4 million people in the United States, Wal-Mart is the largest private employer in the nation. With such a massive workforce, its labor practices and poor relationship with unions make the company a go-to example for lawmakers in Washington when considering the issue of minimum wage.
In June, the Washington, D.C., city council approved a bill called the Large Retailer Accountability Act, also known as the living wage law, that requires big-box stores — those doing business in spaces with more than 75,000 square feet and more than $1 billion in annual sales — to increase the minimum wage paid to employees from $8.25 to $12.50 per hour.
The introduction of the bill raised concerns for Wal-Mart, which has threatened to cancel some of its six planned store openings in the D.C. are if the bill is signed into law. "This legislation is arbitrary and discriminatory," and "it discourages investment in Washington," Wal-Mart executive Alex Barron wrote in an op-ed published in The Washington Post in July.
In a letter sent Thursday to the district's mayor, Vincent Gray, Nader argued that if the company's Canadian stores can pay their employees $10.25 per hour, Wal-Mart can do the same at the stores set to open in Washington, D.C.
"In the Canadian province of Ontario, where Walmart Canada has its headquarters, the minimum wage is $10.25 (the Canadian and U.S. dollars are about equivalent) — $3 above the United States' federal minimum wage," Nader wrote on behalf of his organization, Time for a Raise. "Walmart has 110 stores in Ontario."
The letter also contained a response to Wal-Mart's argument that the wage increase would be too much of a burden. "If Walmart's lobbyists say otherwise, I recommend that you ask Walmart Canada President and CEO, Shelley G. Broader, whether the closest Walmart to her office in Mississauga, Ontario — which is paying their workers $10.25 — is profitable," Nader said.
At the bottom of the typed letter, he hand wrote this offer: "Call me anytime if you want more information."
This was not Nader's first letter to Gray. A July 10 note told the mayor to ask himself five questions before coming to a decision regarding the Large Retailer Accountability Act. First — noting that if the 1968 minimum wage kept pace with inflation, it would be $10.70 today; it would be $22 if it kept pace with worker productivity — he postulated that Wal-Mart should be willing to pay workers in D.C. $12.50 minus benefits.
He also suggested that Gray should think about these facts: Wal-Mart CEO Mike Duke makes $11,000 an hour plus "great benefits" and perks; Costco (NASDAQ:COST) starts its workers at $11.50 an hour plus benefits and is profitable; Wal-Mart has enough money to launch a $15 billion stock buyback; and a study from U.C. Berkeley's Center for Labor Research and Education has shown that increasing the hourly wage to $12 would add — provided all of the wage increase was absorbed by price increases — just 46 cents per trip for the average Wal-Mart customer.
Gray has not yet publicly said whether he will veto the bill, which has not reached his desk.