NASDAQ OMX Group Earnings: Short of Wall Street Expectations
Falling revenue did not prevent S&P 500 (NYSE:SPY) component The NASDAQ OMX Group, Inc. (NASDAQ:NDAQ) from reporting a profit boost in the first quarter. NASDAQ OMX Group Inc. delivers trading, securities listing, exchange technology and public company services across six continents.
Don't Miss: Wall St. Cheat Sheet's newest Feature Trades of the Month >>
The NASDAQ OMX Group Earnings Cheat Sheet for the First Quarter
Results: Net income for the diversified investments company rose to $103 million (56 cents/share) vs. $61 million (28 cents/share) YoY. A rise of 68.9% from the year earlier quarter.
Revenue: Fell 45.7% to $415 million YoY.
Actual vs. Wall St. Expectations: NDAQ fell short of the mean analyst estimate of 61 cents/share. Estimates ranged from 57 cents per share to 65 cents per share.
Quoting Management: Bob Greifeld, Chief Executive Officer and President, NASDAQ OMX said: "We're firing on all cylinders as each of our business segments continue to show solid growth. The discipline we have shown in managing our business is allowing us to pursue game-changing opportunities in our industry. As this plays out, we will be methodical in our approach to managing the business to continue to deliver for our shareholders."
Key Stats:
The company has now seen net income rise in four-straight quarters. In the fourth quarter of the last fiscal year, net income rose 218.6% while the figure climbed 68.3% in the third quarter of the last fiscal year and 39.1% four quarters ago from the year earlier.
Over the last five quarters, revenue has fallen an average of 14.1% year over year. The biggest drop came in the most recent quarter, when revenue fell 45.7% from the year earlier quarter.
Competitors to Watch: NYSE Euronext (NYSE:NYX), CME Group (NASDAQ:CME), CBOE Holdings, Inc (NASDAQ:CBOE), London Stock Exchange Group (LON:LSE), and IntercontinentalExchange, Inc. (NYSE:ICE).
Today's Performance: Shares of NDAQ are trading at $27.40 pre-market, unchanged from the previous close.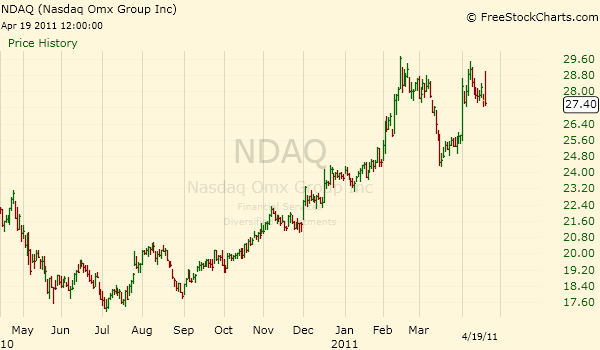 Don't Miss Wall St. Cheat Sheet's newest Feature Trades of the Month!