Nasdaq Welcomes Netflix to the Top 100, McDonald's Struggles in Japan, and 3 More Hot Stocks
Netflix (NASDAQ:NFLX): Netflix will become the newest member of the Nasdaq 100, bumping Perrigo (NASDAQ:PRGO) out of the list. Netflix's market cap is $12.1 billion, compared with Perrigo's $11.05 billion as of Thursday's close. However, Schaeffer's Investment Research isn't geting caught up in the investor excitement, pointing out that the track record for companies tagged for the index is spotty, and Netflix's own history suggests it does just as well as from the outside looking in.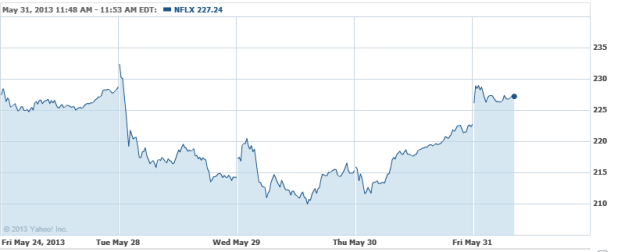 McDonald's (NYSE:MCD): Japan could pose a significant problem for the fast food giant, as the island country is already a weaker market for the company, but a sliding yen could cut further into profits. American companies operating in Japan have been cutting prices to remain competitive, as Prime Minister Shinzo Abe's economic plan has provided great benefits for the nation's exports to the detriment of international organizations not based in the country. However, in McDonald's case, the company might lose its value proposition if it follows suit.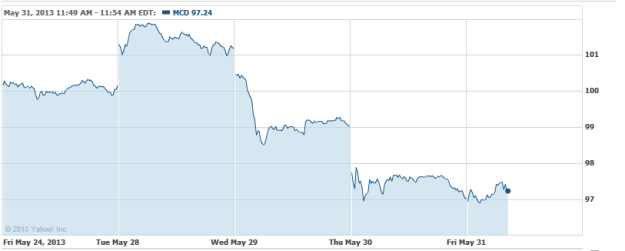 Barrick Gold (NYSE:ABX): Chilean regulators has said that Barrick Gold's Pascua Luma project might take one to two years to reactivate, given the infrastructure that needs to be built to avoid water pollution. Emphasis lay on how diligent the company is in its compliance with Chile's environmental code, which would ultimately determine how long the process would take. Last Friday, the new regulator ordered the $8.5 billion project to be halted and fined Barrick $16 million, citing serious environmental violations.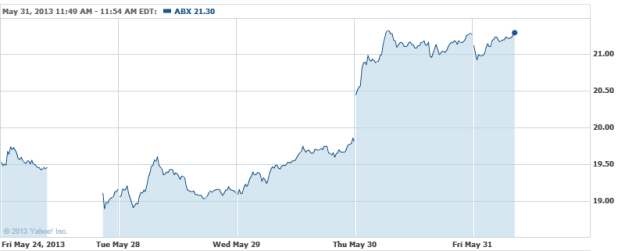 Sony Corp. (NYSE:SNE): At a CNBC appearance, CEO Kazuo Hirai noted that entertainment and electronics ops have valuable synergies, in direct response to Third Point's Daniel Loeb's proposition that the company spin off its entertainment arm. Hirai also weighed in during the D11 conference on the new flagship, the Xperia Z, which has been the best selling phone in Japan for six weeks, and will soon hit American carriers. His cautious notes on the 4K TV adoption were partially offset by claims that the PS4 will be (in contrast to the Xbox One) will be a game console above all else.
Microsoft (NASDAQ:MSFT): The software company is giving it its all as far as the Xbox One, as it will reportedly be putting $1 billion in investments into game development, both to finance new in-house studios and secure exclusive titles. The One is expected to have 15 Microsoft exclusives in its first year of availability, including eight new titles.

Don't Miss: What's Behind Apple's Japan Price Hike?