S&P 500 (NYSE:SPY) component National Semiconductor Corporation (NYSE:NSM) reported its results for the fourth quarter. National Semiconductor Corporation designs and manufactures a range of semiconductor products, most of which are analog and mixed-signal integrated circuits.
Don't Miss: Wall St. Cheat Sheet's newest Feature Trades of the Month!
National Semiconductor Earnings Cheat Sheet for the Fourth Quarter
Results: Net income for the semiconductor company fell to $67.1 million (26 cents/share) vs. $79.2 million (33 cents/share) a year earlier. A decline of 15.3% from the year earlier quarter.
Revenue: Fell 6.1% to $374.1 million YoY.
Actual vs. Wall St. Expectations: NSM fell short of the mean analyst estimate of 27 cents/share. Estimates ranged from 25 cents per share to 28 cents per share.
Quoting Management: "Business conditions were a little better than we expected in the quarter," said Don Macleod, National's chief executive officer. "With bookings up 21%, the first increase for three quarters, we were able to get back to meaningful quarterly revenue growth."
Key Stats:
Gross margins fell 2.3 percentage points to 66.5%. The contraction appeared to be driven by falling revenue, as the figure fell 6.1% from the year earlier while costs rose 0.9%.
Revenue has fallen in the past two quarters. In third quarter, revenue declined 5% to $343.9 million from the year earlier quarter.
Competitors to Watch: Texas Instruments Inc. (NYSE:TXN), Analog Devices, Inc. (NYSE:ADI), Intersil Corporation (NASDAQ:ISIL), Linear Technology Corp. (NASDAQ:LLTC), ON Semiconductor Corp. (NASDAQ:ONNN), Maxim Integrated Products Inc. (NASDAQ:MXIM), STMicroelectronics N.V. (NYSE:STM), Fairchild Semicond. Intl. (NYSE:FCS), Intel (NASDAQ:INTC), Micrel, Incorporated (NASDAQ:MCRL), and Semtech Corporation (NASDAQ:SMTC).
Stock Performance: Shares of NSM are up 0.12% after hours.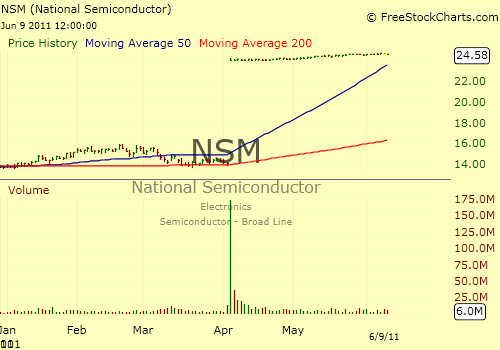 Don't Miss Wall St. Cheat Sheet's newest Feature Trades of the Month!
(Sources: YahooFinance, Xignite Financials)