Nationstar Closes on Mortgate Servicing Rights and 3 Hot Stocks on the Move
Apollo (NASDAQ:APO): Current Price $22.38
In a sign of the times, when private equity players and asset managers such as Apollo (NASDAQ:APO) and KKR (NYSE:KKR) are under increasing pressure to identify and generate new streams of fee income, Blackstone (NYSE:BX), too, has acquired a securities underwriting license in an effort to leverage its growing capital market operations into lucrative investment banking. Could these new entrants be treading on someone's toes? "We have complex relations with the PE firms, but not conflicts…," said one investment banker focusing on private equity clients and quoted by CNBC.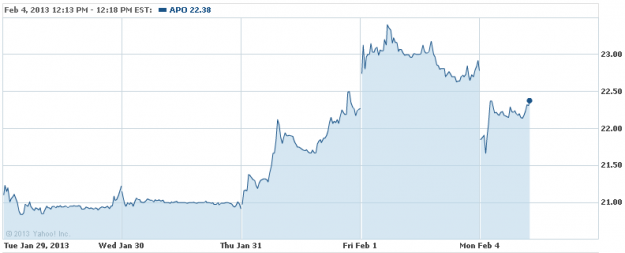 Are these stocks a buy or sell? Let us help you decide. Check out our Stock Picker Newsletter now.
KKR & Co (NYSE:KKR): Current Price $17.51
Buyout firms KKR & Co (NYSE:KKR) and Permira Advisers LLP are reportedly considering options, including a sale, of their controlling stake in German broadcaster ProSiebenSat.1 Media AG (PSM). They are said to be working with JP Morgan Chase (NYSE:JPM) to set up a deal that could allow them to exit the investment by selling the shares on the market or to another company. According to sources, Time Warner Inc. (NYSE:TWX), Comcast Corp. and News Corp. (NASDAQ:NWSA) could be potential suitors for their 53% stake.

Honda Motor Co (NYSE:HMC): Current Price $37.96
Chinese sales of Japanese car during January were on a roll because the territorial dispute between the two countries seemed to have faded from consumers' memories, and also due to seasonal distortions such as the timing of the Lunar New Year holiday. Also, overall Chinese auto sales during January are expected report higher by 20% to 30%, with a spillover benefit to Japanese automakers such as Nissan Motor Co (NSANY.OB), and Honda Motor Co (NYSE:HMC) which both reported a rise in sales of 22% for the month.

Nationstar Mortgage Holdings Inc (NYSE:NSM): Current Price $37.59
Nationstar Mortgage Holdings Inc (NYSE:NSM) announces the closure of its purchase of mortgage servicing rights to about $97 billion worth of unpaid principal balance accounts from Bank of America (NYSE:BAC), under the agreement announced previously and dated January 6, 2013. These rights cover loans that are owned, ensured or guaranteed by federal mortgage agencies."We are glad to have completed this important milestone in the acquisition according to schedule," said Nationstar CEO Jay Bray."We look forward to boarding these portfolios over the next several months and working in partnership with Bank of America to ensure customers experience a smooth transition to Nationstar."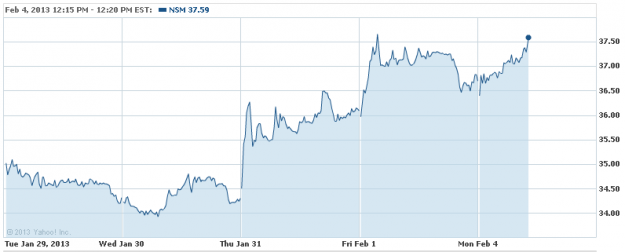 Don't Miss: Will This Acquisition Help in Oracle's Race to the Cloud?