Natural Gas Inventories Are Down, So Why Are Prices Declining?
Despite news this morning that natural gas inventories fell more than expected last week, according to a U.S. Energy Information Administration report, natural gas futures pulled back from 18-month highs reached earlier in the session. On the New York Mercantile Exchange, natural gas futures for April delivery were up to a high of $4.120 earlier, but have since dropped as much as 1.3 percent.
Natural gas storage in the U.S. fell by 95 million cubic feet in the week ended March 22, according to the EIA, exceeding expectations for a drop of 87 billion cubic feet. Total U.S. natural gas storage stood at 1.781 trillion cubic feet at the end of last week, down 642 bcf from the same time last year, but 61 bcf above the five-year average of 1.720 trillion cubic feet for this time of year.
Broken down by region, stocks in the East were 41 bcf below the five-year average, stocks in the Producing Region were 30 bcf above the five-year average, and stocks in the West Region were 73 bcf above the five-year average.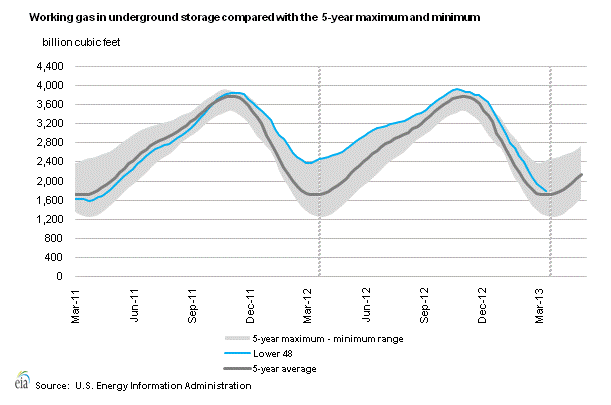 Gas prices have been rallying in recent sessions due to the unseasonably cold weather this spring, which has elevated demand for home heating fuel. Increasing demand has raised expectations for a decline in inventory levels, which should have the effect of raising prices. However, it seems natural gas prices are today taking their cue from weather forecasts rather than the EIA report, as temperatures are supposed to get a nice boost in the second week of April.
"The big story today is faster warming signals," Matt Rogers, president of Commodity Weather Group, said in the report. Though below-average temperatures will continue in the first week of April, by the second week, it's supposed to be unseasonably warm in many parts of the U.S., including New York, where forecasts are in the 70s.
Investing Insights: Is SunPower a Risky Investment?