Natural Gas Prices: Under the Sway of High Temps and High Production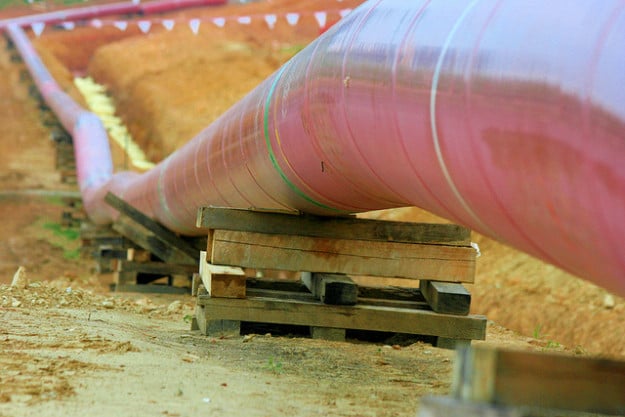 "As a president, as a father, I'm here to say we need to act," President Barack Obama said in June, to an assembled crowd at Georgetown University. "I refuse to condemn your generation and future generations to a planet that's beyond fixing." His speech was crafted to outline key initiatives in his "Climate Action Plan" to cut carbon emissions. The idea of moral obligation was the underlying current.
When running for president in 2008, Barack Obama pledged to make climate change a top priority. It is true that he has acheived some very real accomplishments in supporting renewable energy and efficiency. Yet, the Obama administration is now mired in a controversy over whether the United States should pursue a policy conducive to natural gas exports. On one hand, exportation is expected to be an economic boon, while on the other hand, it could cause domestic prices to soar, and produce unintended environmental consequences.
During Obama's tenure in the White House, soaring production of natural gas from horizontal drilling and hydraulic fracking has pushed supplies to record highs in each of the past four years. The boom in domestic production of both oil and natural gas provided the United States with 84 percent of its energy requirements last year, the highest annual level since 1991.
Besides whatever political clout such a climate action plan carriers, the boom in domestic production of oil and natural gas has pushed energy to key topic in the national discussion. This week, Capitol Hill lawmakers are debating the effects of expanding shipments of natural gas abroad, while the House of Representatives held a hearing Thursday on legislation that would thwart a proposed Department of Interior regulation regarding oil-and-gas fracking on public lands.
With these issues on the political agenda, and the amount of annual income spent on total gas purchases swelling to a sizable percentage, weekly reports from the Department of Energy's statistical arm — the Energy Information Administration — are taking on particular importance.
Given the current glut of natural gas, a smaller-than-anticipated increase in stockpiles would normally cause natural gas futures to advance. On Thursday, the EIA reported that stockpiles rose 41 billion cubic feet in the week ended July 19 to 2.786 trillion cubic feet.
That increase was below the gain of 45 billion cubic feet Bloomberg analysts had expected, but as temperatures in the coming weeks are expected to be mild (thereby prompting less energy use), futures have declined. Gas, which was trading at $3.714 per million British thermal units before the storage number was released, slid as much as 1.5 percent on the New York Mercantile Exchange.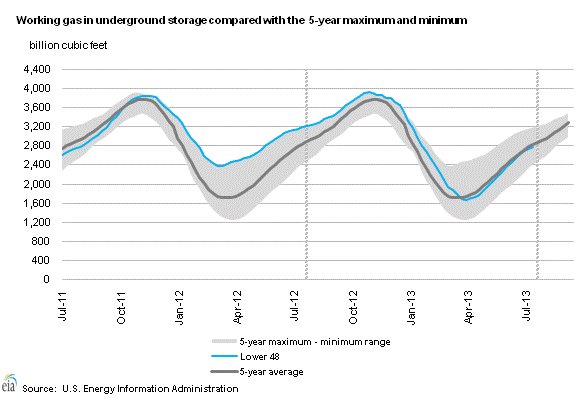 In its Short-Term Energy Outlook published July 9, the EIA predicted that U.S. marketed gas production will climb 1.1 percent this year to a record 69.96 billion cubic feet a day.
Meanwhile, crude oil futures hit their lowest intraday price in more than two weeks, after the Wednesday release of Chinese economic data indicated demand for oil would slow. At the same time, the EIA reported Wednesday that domestic oil production rose to the highest rate in more than two decades.
Follow Meghan on Twitter @MFoley_WSCS