NBA Finals City: Is LeBron Doing For Miami's Growth What Jordan Did For Chicago?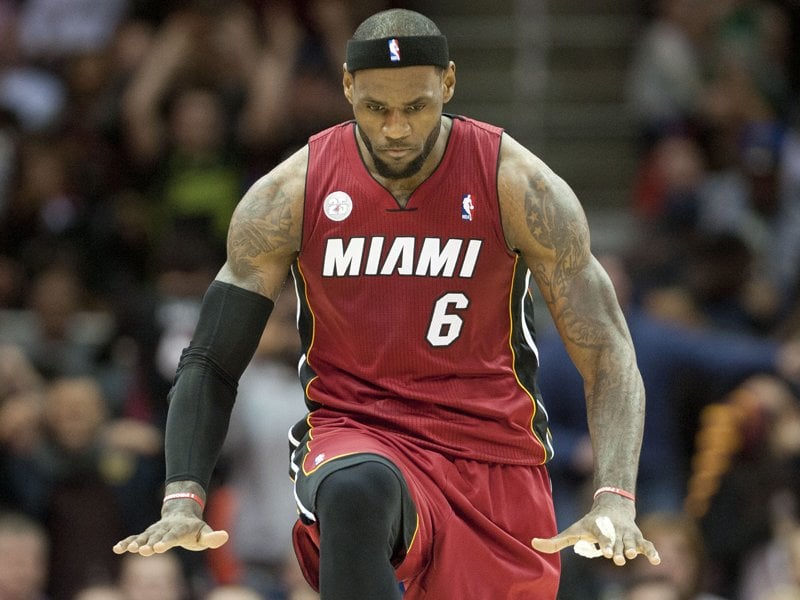 Who has done more for their NBA team's local economy — LeBron "King" James in Miami playing for the Heat or Michael Jordan's illustrious career in Chicago playing for the Bulls? Few things are harder to estimate than the economic impact of professional sports teams. Harder still is measuring the influence individual athletes have on their team's city. Basketball is called a team sport for a reason. Still, with King James regularly drawing comparisons to one of the greatest — if not the greatest — basketball players of all time, his impact on the city is palpable, but perhaps not from an economic standpoint.
Jordan's Economic Impact
Jordan's impact on the economy has been discussed at least as far back as 1998, when CNN Money ran a story asking what Jordan brought to the economy. The answer is a lot harder to quantify than you would think. However, it is valid to conclude that the boost to Chicago's economy was much higher than his annual salary.
Jordan played for the Chicago Bulls from the 1985 season to the 1998 season with a year break to play minor league baseball in 1994, winning NBA championships in '91, '92, '93, '96, '97, and '98. His stunning, athletic style of play captivated audiences, and the Chicago Bulls still have the highest yearly game attendance of any NBA team. Jordan helped build that, and the city of Chicago has definitely benefited, though the exact economic figure is impossible to compute.
Data: Data Basketball
LeBron's Economic Impact
LeBron's impact on Miami and the surrounding metro area's gross domestic product is negligible, at least so far. He has only been playing for the Heat since 2011 and attendance to the NBA team's games actually dropped by more than 100,000 a year in 2012 from the previous year. Given time and some NBA championships, LeBron and the Heat may start giving the Bulls competition for first place in NBA attendance — Heat in 3rd place (by attendance) are less than 80,000 attending fans down for the year in 2013 from the first place (by attendance) Bulls.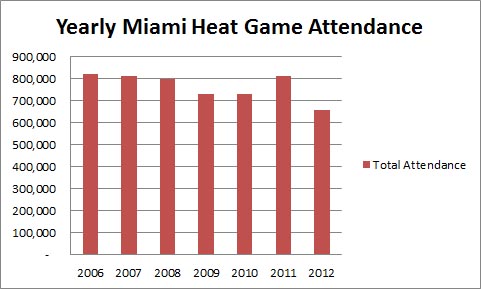 Data: the NBA and Data Basketball
As you can see in the graph below, the uptick in the Miami Metro Area's GDP in 2011 over 2010 was small and in line with the end of the recession (the chart is in thousands). We will have to wait for 2012 figures to see if Miami continued its GDP growth last year, the second year LeBron played for the city.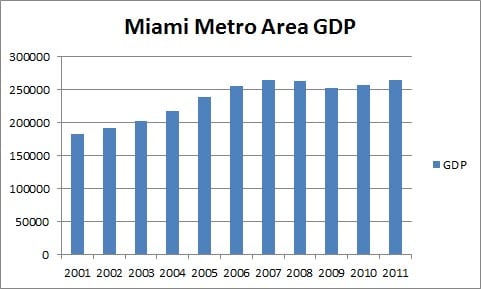 Data: U.S. Department of Commerce Bureau of Economic Analysis (BEA)
What companies benefit from the Heat in Miami?
But who benefits financially from LeBron's performances for the Heat? Heat owner Micky Arison for one. Arison is also the founder and CEO of Carnival Cruise Lines (NYSE:CCL), which is headquartered in the Miami suburb of Doral, Florida. Carnival's ships often depart from port in Miami.
Shipping is big business in Miami — a thriving port city. Ryder (NYSE:R) is headquartered in Miami. The cargo ships arriving and departing from Miami have to get loaded and unloaded somehow.
Airlines like American Airlines are also getting  a boost in business from the Heat. Fans from out of state have to get to Miami somehow. However, it is unclear if flights to Miami are substitutes for flights to other parts of the country or an actual boost in overall flights. Hotels and restaurants in Miami are also benefiting by serving out-of-town customers who come for the basketball games.
Tying it all together? World Fuel Services (NYSE:INT). The Miami-based company sells fuel to marine shipping companies, airlines and trucking companies around the world. In fact, World Fuel Services outpaced Apple (NASDAQ:AAPL) in revenue growth by percentage over the past 10 years to become the fastest growing Fortune 500 company in the world, according to Fortune.
Even Nokia (NYSE:NOK) has a regional headquarter in Miami to focus on Latin American customers. Indeed, many large companies have regional headquarters in Miami to focus on the needs of a rapidly growing segment of the American population — Hispanics. What large city is better than Miami for that?
Keeping the lights on at all these places is NextEra Energy, Inc. (NYSE:NEE). NextEra Energy is a Juno Beach, Florida company and ranked in the Fortune 200. The company is more than happy to keep the lamp burning late for Heat fans celebrating throughout Miami.
Comparison between Jordan and LeBron Unfair
Due to the unavailability of GDP breakdowns by metro regions before 2001, it is hard to compare LeBron's impact thus far to Jordan's impact on the economy when he played for the Bulls. However, LeBron still has plenty of time to cement his legacy and boost the Heat's popularity. Right now, the Heat are ranked third in attendance in the NBA. First place in attendance? The Bulls, of course. But can Jordan be given all the credit for the Bull's success? Certainly NBA coach Phil Jackson deserves some credit.

Data: ESPN
Follow Mont on Twitter @mfcessna
Investing Insights: Does J.C. Penney Have Good Upside Potential?
Don't Miss: Here Are the Euro Zone's Woes in One Big Chart.