NBC Helps Drive Comcast Earnings, Chesapeake's Strong Quarter, and 3 Other Hot Stocks
Comcast Corp. (NASDAQ:CMCSA): Though broadcasting revenues were down, strong performance from NBCUniversal helped spur revenue growth of 4.7 percent, and clocking in at $15.31 billion for the quarter — just $0.15 billion shy of estimates. Earnings per share of $0.51 beat projections by $0.01, and cash flow and operating income also showed healthy growth. A gain of 583,000 new high-speed Internet and voice customers during the quarter takes the company's total to 51.9 million.
Chesapeake Energy Corp. (NYSE:CHK): It's been a strong quarter for energy companies, and Chesapeake is no exception. The company beat earnings estimates by $0.05, with $0.30 per share. Revenue was also substantial, at $3.42 billion, or about $0.57 billion over projections. Total production rose 9 percent year-over-year, and now sits at 4 billion cubic feet per day. The company projects that full year 2013 production expenses will be around $0.85-$0.90/mcfe for the year, down $0.05 from its prior guidance.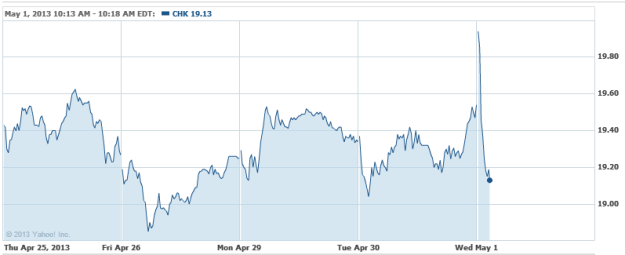 CVS Caremark (NYSE:CVS): Earnings of $0.83 beat by $0.03 per share, and revenue of $30.7 billion beat by $0.34 billion. Volume increases for pharmaceuticals and drug cost inflation helped to offset expansion of generics, while pharmacy network claims increased 4.3 percent to 207.1 million.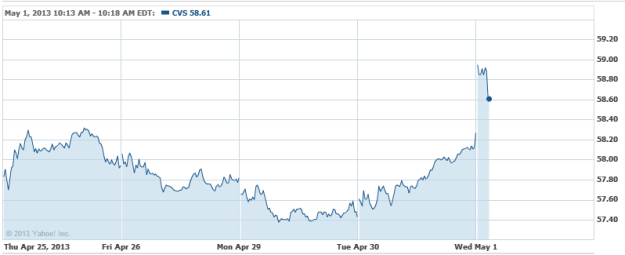 Amgen (NASDAQ:AMGN): Goldman Sachs has upgraded the company to its Conviction Buy list, with a price target of $130 up from $100, citing a "more favorable combination of catalysts and upside potential." "We project that AMGN's pipeline (key readouts in 1Q14-2015) and own biosimilars (first launch in 2017) will allow it to replace the potential revenue that could be lost to competition and grow its base," Goldman analyst Terence Flynn said.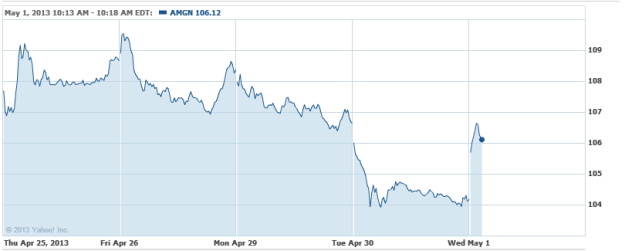 Bankrate Inc. (NYSE:RATE): Shares are soaring over 17 percent following an impressive quarterly report, in which the company's earnings of $0.12 beat by $0.03, and revenue of $108.4 million beat by $5.05 million. A 16 percent growth in revenue makes this the first "Q/Q growth since we began culling low performing lead sources a year ago," CEO Thomas Evans said. In response to analyst questions about seasonality, CFO Edward DiMaria responded: "Conversions were up, traffic was up, so we think its more than just the normal seasonality," he said.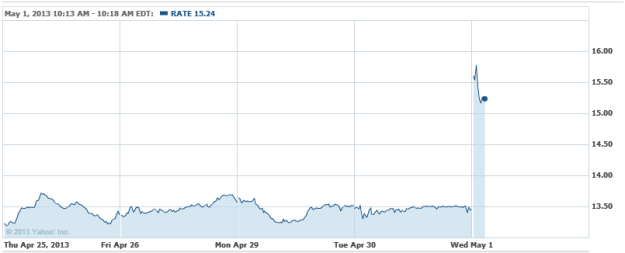 Don't Miss: Is Obama Still the Best Gun Salesman Ever?