NCR Inks Agreement With PayPal and 3 Stocks Hitting 52-Week Highs
Becton Dickinson and Company (NYSE:BDX): Closing price $82.70
Becton Dickinson's segment BD Medical said that the FDA has approved the BD PhaSeal Closed System Transfer Device under the newly created ONB code. The BD PhaSeal System is the first and sole approved CSTD under the new code, which was created for devices having specific indications for use with antineoplastic and other hazardous drugs. The FDA clearance was based on three criteria: no transfer of environmental contaminants, no escape of hazardous drug or vapor concentration, and prevention of microbial ingress. Shares closed up 0.49 percent on the day at $82.70, and have been traded in a 52-week range of $71.56 to $82.31.

Start 2013 better than ever by saving time and making money with your Limited Time Offer for our highly-acclaimed Stock Picker Newsletter. Click here for our fresh Feature Stock Pick now!
Brookdale Senior Living (NYSE:BKD): Closing price $27.46
Brookdale Senior Living has recently finalized its purchase of 12 communities with a total of 871 units for an acquisition price of $162.1 million, along with customary transaction expenses. Prior to this, the communities had been operated by the firm under long-term leases that were accounted for as either operating or capital leases. In a connected transaction, the company obtained a $171.3 million first mortgage loan secured by nine of its communities, including eight of the recently-purchased communities. Shares closed up 2.58 percent on the day at $27.46, having been traded in a 52-week range of $14.99 to $26.91.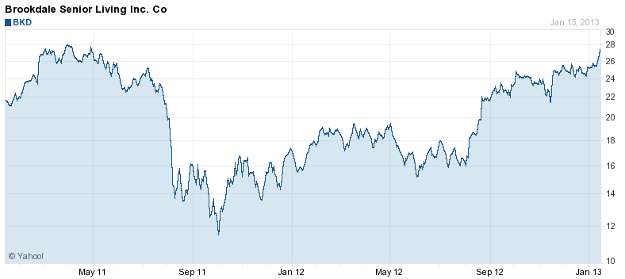 Eaton Vance Corporation (NYSE:EV): Closing price $33.49
On December 31st, the company has posted consolidated assets under management of $238.4 billion, compared to $199.5 billion on October 31, which marked the close of tits fourth quarter. Managed assets on December 31st include $34.8 billion gained in connection with the purchase of The Clifton Group Investment Management Company by its subsidiary Parametric Portfolio Associates. Shares closed up 0.69 percent on the day at $33.49, having been traded in a 52-week range of $22.97 to $33.33.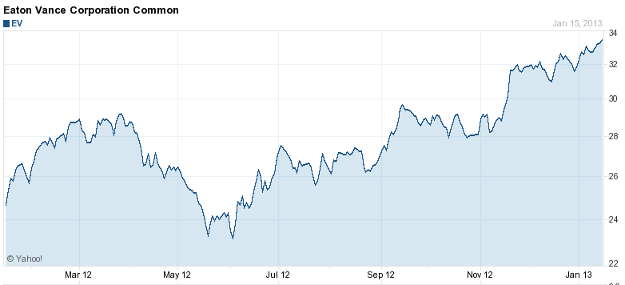 NCR Corporation (NYSE:NCR): Closing price $27.49
NCR and PayPal (NASDAQ:EBAY) will integrate NCR's innovative mobile solutions for hospitality and retail with PayPal's digital payment tech. At the outset, NCR and PayPal will join PayPal mobile payment options into the recently reported NCR Mobile Pay application and NCR Aloha Online Ordering. The firms are also collaborating to integrate PayPal mobile payment options into NCR's Convenience-Go application for petroleum and convenience stores. Beyond these first solutions, moves are planned to integrate NCR's Advanced Marketing Solution loyalty and to offer management system with the PayPal digital wallet. Shares closed up 1.29 percent on the day at $27.49, having been traded in a 52-week range of $16.39 to $27.21.

Investing Insights: Goldman Sachs Earnings: First Year of Revenue Growth Since 2009.