Need a Job? Restaurants Are Hiring Like Crazy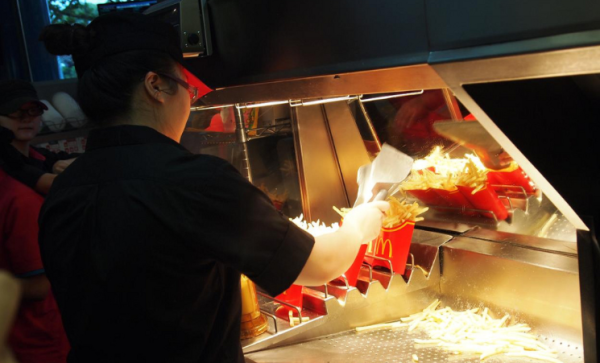 After an unprecedented amount of liquidity and intervention by the Federal Reserve, the labor market is still stuck in the slowest post-recession recovery since the Great Depression. The recent update on the employment situation was better than expected, but the restaurant industry — known for low wages — is leading the way.
Last week, the U.S. Department of Labor reported that the economy added 175,000 jobs in May, more than estimates calling for a gain of 167,000 jobs. However, the unemployment rate ticked slightly higher, and the economy needs to add roughly 200,000 jobs per month just to account for population growth. Furthermore, the nation lost 8,000 manufacturing jobs.
America, the most gluttonous country in the world, loves to eat food, which is providing a belt-busting boost to jobs in the restaurant industry. Eating and drinking places added a net 38,100 jobs last month. The component accounts for around three-fourths of the total restaurant and food service workforce, and has posted job gains of at least 30,000 in three of the past four months.
Since the beginning of the year through May, eating and drinking places added jobs at a rate of 3.2 percent, double the 1.6 percent rate logged in the overall economy, according to the National Restaurant Association.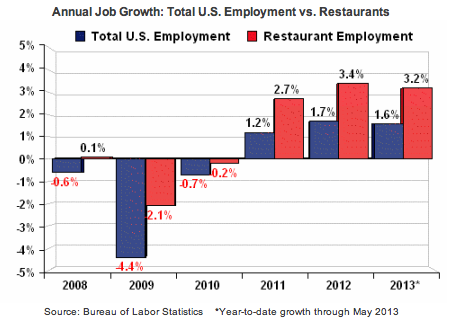 The organization explains, "If the current trend holds, 2013 will represent the 14th consecutive year in which restaurant industry job growth outpaces the overall economy, and the third consecutive year in which the industry registered job growth in excess of 2.5 percent. In comparison, the overall economy hasn't posted job growth above 2.5 percent since 1998."
Online hospitality job service hcareers.com reported last month that the number of job openings in the restaurant-hospitality sector surged by 100 percent in the first quarter, compared to the fourth quarter of 2012. Cook and waiter/waitress jobs are the most in-demand positions this year.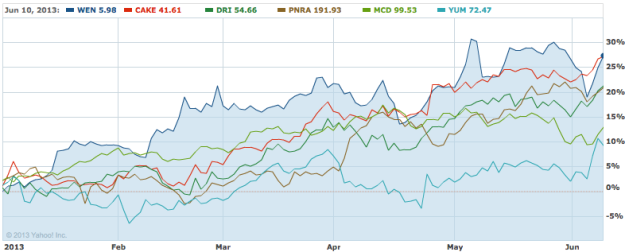 As the chart above shows, it has been a good year for restaurant-related stocks. Shares of Wendy's (NYSE:WEN) and the Cheesecake Factory (NASDAQ:CAKE) have both surged about 27 percent year-to-date. Meanwhile, Darden Restaurants (NYSE:DRI) and Panera Bread Co. (NASDAQ:PNRA) shares have jumped 21 percent each. Shares of McDonald's (NYSE:MCD) and Yum! Brands (NYSE:YUM) have lagged behind with gains of 12.8 percent and 9.1 percent this year, respectively.
Don't Miss: What Do Americans Think About the Real Estate Market?
Follow Eric on Twitter (@Mr_Eric_WSCS)