NetApp, Inc. Earnings Cheat Sheet: Double-Digit Growth Again
S&P 500 (NYSE:SPY) component NetApp, Inc. (NASDAQ:NTAP) reported net income above Wall Street's expectations for the fourth quarter. NetApp, Inc. supplies enterprise storage and data management software and hardware products and services.
Don't Miss: Wall St. Cheat Sheet's newest Feature Trades of the Month!
NetApp Earnings Cheat Sheet for the Fourth Quarter
Results: Net income for NetApp, Inc. rose to $160.6 million (40 cents/share) vs. $145.2 million (40 cents/share) in the same quarter a year earlier. A rise of 10.6% from the year earlier quarter.
Revenue: Rose 21.9% to $1.43 billion YoY.
Actual vs. Wall St. Expectations: NTAP reported adjusted net income of of 59 cents/share. By that measure, the company beat the mean estimate of 53 cents/share. Estimates ranged from 50 cents per share to 56 cents per share. It beat the average revenue estimate of $1.39 billion.
Quoting Management: "NetApp delivered 30% revenue growth, 38% growth in cash from operations and over $1B in non-GAAP operating profit during fiscal 2011. We achieved the largest market share gains in our history and closed a record number of million dollar deals, demonstrating our momentum in the market as enterprise customers increasingly choose NetApp as their vendor of choice for storage virtualization and cloud deployments," said Tom Georgens, president and CEO. "Together with our partners we create unmatched IT efficiency and flexibility with innovative solutions that solve the biggest and hardest problems in accessing and protecting business-critical information."
Key Stats:
The company has enjoyed double-digit year-over-year revenue growth for the past five quarters. Over that span, the company has averaged growth of 29.8%, with the biggest boost coming in the first quarter when revenue rose 35.8% from the year earlier quarter.
The company has now seen net income rise in three-straight quarters. In the third quarter, net income rose 59.9% and in the second quarter, the figure rose 72%.
From the third quarter, the company's current liabilities rose to $3.37 billion from $1.94 billion.
The company has now topped analyst estimates for the last three quarters. It beat the mark by one cent in third quarter and by 3 cents in second quarter.
Gross margins grew 1.1 percentage points to 65%. The growth seemed to be driven by increased revenue, as the figure rose 21.9% from the year earlier quarter while costs rose 18.1%.
Competitors to Watch: EMC Corporation (NYSE:EMC), Dot Hill Systems Corp. (NASDAQ:HILL), Overland Storage, Inc. (NASDAQ:OVRL), Quantum Corporation (NYSE:QTM), ADPT Corporation (ADPT), Xyratex Ltd. (NASDAQ:XRTX), Seagate Technology PLC (NASDAQ:STX), Western Digital Corp. (NYSE:WDC), Brocade Communications Systems, Inc. (NASDAQ:BRCD), and Intl. Business Machines Corp. (NYSE:IBM).
Stock Performance: Shares of NTAP are up 0.26% from the previous close.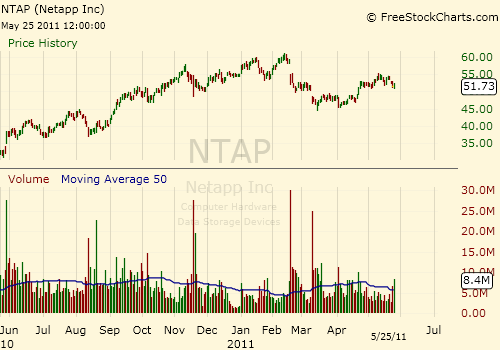 Don't Miss Wall St. Cheat Sheet's newest Feature Trades of the Month!
(Sources: YahooFinance, Xignite Financials)