Netflix and SEC Come Full Circle
The information-disclosure story between Netflix (NASDAQ:NFLX) and the Securities & Exchange Commission has been playing out for months, but the conclusion comes together like a well directed movie.
Last July, Netflix CEO Reed Hastings posted on his Facebook (NASDAQ:FB) wall, "Congrats to Ted Sarandos, and his amazing content licensing team. Netflix monthly viewing exceeded 1 billion hours for the first time ever in June. When House of Cards and Arrested Development debut, we'll blow these records away. Keep going, Ted, we need even more!"
The post made headlines and provided optimism for the most recent quarter. Before the post, Netflix shares traded at $68 a share, but surged to $85 by the following week. However, Hastings and Netflix received a Wells Notice from the SEC, a warning indicating the regulators might bring civil action against the company. Regulation Fair Disclosure, also known as Reg FD, was the issue in focus as it seeks to prevent material information being announced to a limited audience.
Hastings responded that the information was not material and that the company blogged a few weeks earlier that it was serving nearly 1 billion hours per month. The SEC ultimately decided not to pursue any sanctions and even said it was acceptable for companies to make announcements on social sites like Facebook and Twitter, as long as investors were aware of the possibility.
Another post is made on Facebook…
Netflix announced on Wednesday through a regulatory filing that it may use Facebook or Twitter to disclose material information. The video-streaming company said it would still use traditional disclosure methods, but some information on social media could be deemed material. One day later, Netflix made another Facebook post reminiscent of the one that started the whole disclosure debate.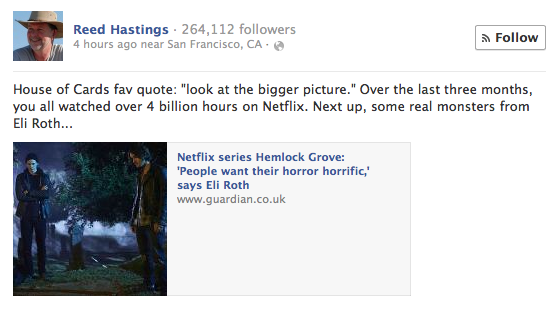 On Thursday afternoon, Hastings posted, "House of Cards fav quote: 'look at the bigger picture.' Over the last three months, you all watched over 4 billion hours on Netflix. Next up, some real months from Eli Roth…"
The post brings the Netflix and SEC story full circle, and even had another positive effect on the stock. Shares jumped more than 4 percent on Thursday, and rose another 2.8 percent in late trading. On Friday, Netflix shares gained 1.0 percent, while other Internet names such as Amazon.com (NASDAQ:AMZN) and Google (NASDAQ:GOOG) edged slightly lower.
Don't Miss: Bank of America Dodges "Worst Company in America" Title