Netflix Branches Out With Original Series and 4 Media Titans Making Waves
AOL, Inc. (NYSE:AOL): Current Price: $30.84
AOL CEO Tim Armstrong, along with Huffington Post Media Group President/Editor-in-Chief Arianna Huffington, were the main speakers at the Greenwich Junior League's annual membership meeting on Wednesday evening at the Greenwich Library.

Netflix, Inc. (NASDAQ:NFLX): Current Price: $167.48
Due to the growing competition in streaming content, Netflix has begun to branch out in a big way by producing its own original series. The $100 million Kevin Spacey series "House of Cards" went live just after midnight.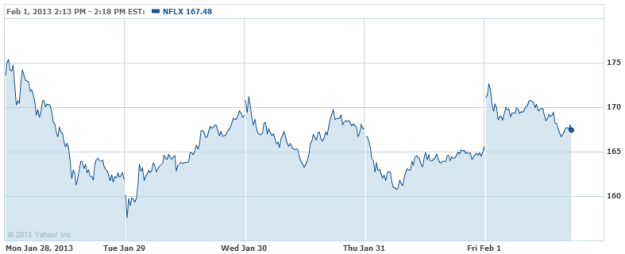 Are these stocks a buy or sell? Let us help you decide. Check out our Stock Picker Newsletter now.
CBS Corporation (NYSE:CBS): Current Price: $42.23
SodaStream's (NASDAQ:SODA) revised Super Bowl ad is to show plastic bottles disappearing while various consumers use the its soda making machine, Globes reported yesterday. The ad intends to focus on the company's message that it helps the environment  the website noted. The original ad spoofs Coca-Cola (NYSE:KO) and Pepsi (NYSE:PEP), and it was rejected by CBS. However, the original ad will be shown online and on other TV networks, Globes added.

Comcast Corporation (NASDAQ:CMCSA): Current Price: $38.39
Steve Capus, the president of NBC News, will leave the network in the next few weeks, according to Politico. A successor hasn't been named.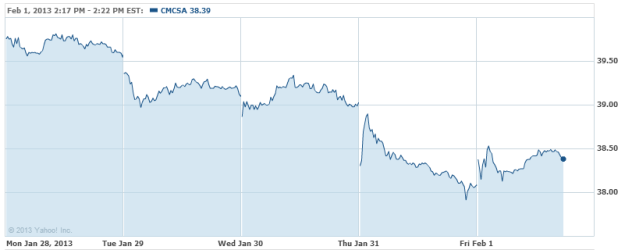 News Corp. (NASDAQ:NWSA): Current Price: $28.20
The company has announced two senior management appointments for the News Corporation and the proposed global publishing entity will be formed as part of the Company's intended separation into two independent, publicly traded companies. Anoushka Healy, Group Managing Editor of The Times and Sunday Times in London, was named Chief Strategy Officer. William Lewis will hold the title of Chief Creative Officer. He intends to be responsible for the new company's creative strategy, and he will be key in developing new commercial opportunities which includes product launches, digital initiatives and acquisitions.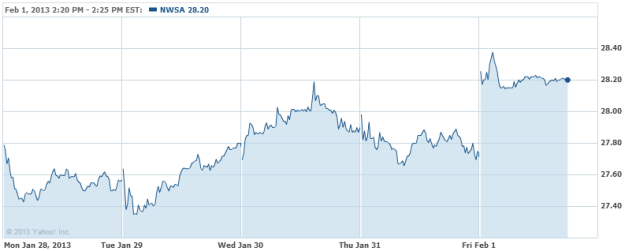 Don't Miss: Is Google Willing to Play Nice in Europe?