Netflix Gets a Makeover, Macy's Brings Investors Christmas Hope: Market Recap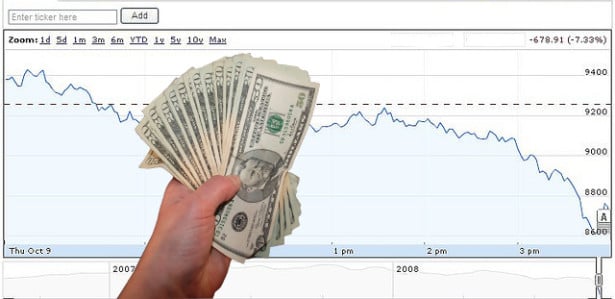 U.S. stocks rose during trading on Wednesday as positive earnings from Macy's (NYSE:M) raised optimism about this year's shortened holiday shopping season. The better-than-expected third-quarter earnings that have been seen recently have investors speculating that the economy may be ready for the Federal Reserve to begin tapering its bond purchases. Tomorrow, Janet Yellen is due to testify before the Senate Banking Committee for her confirmation hearing to replace Fed chairman Ben Bernanke, at which time more may be revealed about the Fed's thinking.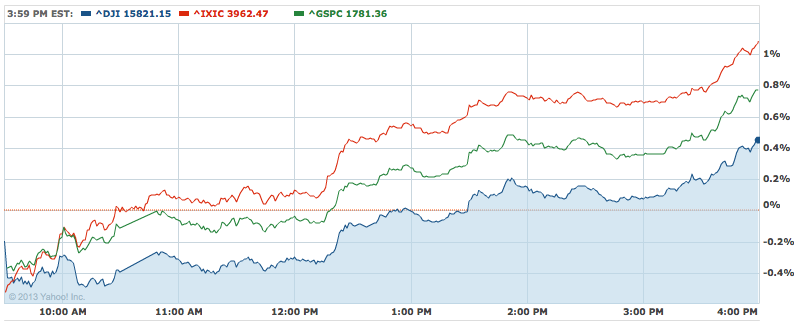 Gold: +0.10% to $1,272.50 per ounce Oil: +0.83% to $93.81 per barrel U.S. 10-Year: -1.55 to 2.725%
U.S. Kicks Off the Fiscal New Year With a $92 Billion Deficit: On Wednesday, the U.S. Treasury released the first budget report of the new federal fiscal year — and so far, so good. With total outlays of $291 billion and total receipts of $199 billion, the United States ran a budget deficit of $92 billion in October, down 24 percent on the year from a deficit of $120 billion in October 2012. However, about $8 billion worth of the deficit reduction can be attributed to timing, which brings the real improvement to about 17 percent.
Here Is Why the Emerging Marketplace Is in Trouble: While loans may have helped the emerging markets of the world from stagnating following the 2008 financial crisis, the days of credit regret have arrived for many big borrowers, Bloomberg reports. Turkey and South Africa, for example, are finding themselves with increasing delinquent loans, and state-run lenders in India are struggling with an increase in bad debt. China's banks are dealing with similar problems.
Will Investors Rethink How They Invest in European Markets? Low inflation rates are causing many to rethink how they are going about investing in European markets, Reuters reports. With inflation rates falling to 0.7 percent in the month of October, they are below 1 percent for the first time since the financial crisis. This can have a large impact on an economy, as one nears the point where deflationary pressures become a concern.
Here's your cheat sheet to today's top stories:
Macy's Inc. (NYSE:M) closed Tuesday's trading session down 1.57 percent at $46.33 per share, but Macy's stock climbed over 9 percent in trading on Wednesday after Macy's reported third-quarter results that came in ahead of expectations. Sales climbed 3.3 percent on the year to $6.276 billion, beating the mean analyst estimate of $6.19 billion. Earnings climbed by 31 percent to 47 cents per share, beating the mean analyst estimate of 39 cents per share.
Starbucks (NASDAQ:SBUX) wants to sell you its bagged coffee directly, and it is willing pay the big bucks to make sure that happens. Starbucks will pay Mondelez International (NASDAQ:MDLZ) $2.79 billion to settle a dispute and win backs its rights. According to USA Today, the conflict that precipitates the payout dates back to 1998 when Starbucks and Mondelez, then known as Kraft Foods, forged an agreement that permitted Kraft to sell Starbucks coffee in grocery stores.

Netflix Inc. (NASDAQ:NFLX) has touted itself as a superior alternative to traditional television, but now Netflix is taking inspiration from the medium in an interface update designed to make Netflix look like a TV channel personally designed for each user. The new interface will standardize how Netflix looks across a variety of different devices used to access it, including Sony's (NYSE:SNE) PlayStation, Microsoft's (NASDAQ:MSFT) Xbox, Roku 3, and a number of smart-TV and Blu-ray players, according to a company press release.
Wal-Mart Stores Inc. (NYSE:WMT) announced on Tuesday that it will kick off the holiday shopping season even earlier this year, opening doors just in time for Thanksgiving evening. According to USA Today, the retail giant will hold two major sales events at 6 p.m. and 8 p.m. November 28, reflecting a two-hour jump from last year.

Cisco Systems (NASDAQ:CSCO) closed Wednesday's regular session up 1.12 percent at $24.00 per share, but fell as much as 3 percent in post-market trading after reporting fiscal first-quarter results. Cisco's revenue increased 1.8 percent on the year to $12.1 billion, missing the mean analyst estimate of $12.36 billion. Cisco's GAAP net income fell 4.6 percent on the year to $2.0 billion, and earnings fell from 39 cents per share to 37 cents per share.
Tesla (NASDAQ:TSLA) CEO Elon Musk has long lauded the safety of his iconic Model S car, and back in August, we learned that government safety agencies agreed. Tesla's Model S received the top five-star rating in each round of the National Highway Traffic Safety Administration testing that summer, and Consumer Reports also gave the sedan one of its highest ratings ever based on its test drives and reliability data. Unfortunately, those ratings were granted months before disaster began to strike for Musk, and now the Model S is reportedly at risk for a large-scale NHTSA investigation and possible recall.
Follow Jacqueline on Twitter @Jacqui_WSCS
Don't Miss: When Will Investors Press Pause on the Netflix Stock Surge?