Netflix Gets Emmy Nod, Dell Vote Delayed: Market Recap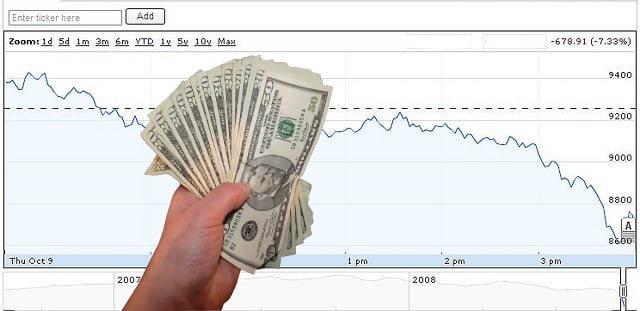 U.S. stocks rose to record highs today, as Morgan Stanley (NYSE:MS) and UnitedHealth (NYSE:UNH) among others reported better-than-expected earnings and Ben Bernanke stressed in his testimony to Congress that the Federal Reserve would not curtail stimulus until the central bank is certain the economy has recovered.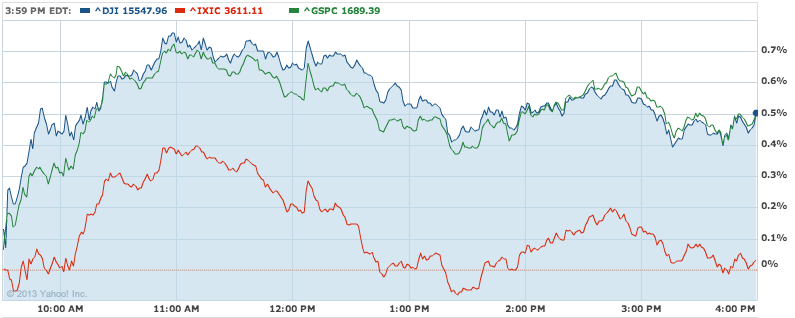 Gold: +0.42% to $1,282.90 per ounce  Oil: +1.47% to $108.05 per ounce  U.S. 10-Year: +1.73 to 2.534%
Take Note Fed, Jobless Claims Are Down: The number of Americans filing initial claims for unemployment benefits fell to the lowest level in four months — one possible indicator is that employers are more confident in the strength of the economy and, as result, are ready to begin hiring in greater numbers… (Read more.)
Mixed Economic Indicators So Far This Year; QE Future Uncertain: As the economic picture in the United States remains mixed, the future of Ben Bernanke's quantitative easing is unclear. The Federal Reserve chairman previously said that the rate of asset purchasing under his hallmark program may begin to slow by the end of 2013, eventually to be phased out sometime next year… (Read more.)
Growth, Austerity, and Reform: No Shortage of European Struggles: European Central Bank Executive Board Member Joerg Asmussen is pushing for further fiscal consolidation among debt-laden European countries, citing the dual pains of joblessness and high national debts endangering this generation of European youth… (Read more.)
Here's your cheat sheet to today's stocks stories:
Verizon Communications (NYSE:VZ) reported earnings Thursday morning, showing double-digit growth in adjusted earnings per share, which rose 14.1 percent to 73 cents from 64 cents in the second quarter of last year. Verizon is reporting strong growth in wireless customers, and it now offers 4G LTE network access to 301 million people across the U.S… (Read more.)
Morgan Stanley (NYSE:MS) climbed 4.37 percent on Thursday after reporting second-quarter earnings that came in ahead of analyst expectations. Net revenue increased 4.3 percent on the quarter and 23.2 percent on the year to $8.5 billion, beating the average analyst estimate of $7.89 billion… (Read more.)
Netflix (NASDAQ:NFLX) has become an incredibly popular way to watch TV, but little information on viewership and a lack of traditional ratings have made it difficult to analyze the online TV streaming service. A recent study released by GfK helps shed light on how consumers are using Netflix… (Read more.)
UnitedHealth Group Inc. (NYSE:UNH) reported earnings that beat analyst expectations today. The company's adjusted earnings per share grew 10.24 percent to $1.40 from $1.27 in the second quarter of last year. That beat the mean analyst estimate of $1.25. The company missed the mark, however, on revenue, which grew 11.53 percent to $30.41 billion, a figure that's a little short of analyst estimates of $30.5 billion.
Microsoft Corp. (NASDAQ:MSFT) is working to create an operating system for homes and businesses that will allow things like temperature control and security cameras to be monitored and changed via the Web, while working together in the same system. The operating system, called Lab of Things, will make it easier for various Internet-controlled systems to work together, and will also provide a launching pad for developers to create apps for the home… (Read more.)
Johnson Controls (NYSE:JCI) reported earnings today, beating analyst estimates on earnings per share but falling short on revenue. The company's adjusted earnings per share rose 21.88 percent to 78 cents from 64 cents in the year-earlier quarter, a figure that beat analyst estimates of 75 cents. Johnson's revenue rose 2.36 percent to $10.83 billion, which fell slightly short of analyst estimates predicting the company would make $11 billion in revenue.
Dell's (NASDAQ:DELL) shareholder meeting to determine whether the company will go private was adjourned before the vote was finalized, something rumors had predicted would occur as the company fields bids from founder Michael Dell and billionaire investor Carl Icahn. In a filing submitted to the Securities and Exchange Commission Thursday morning, the special committee of Dell's board, which has been charged with overseeing the go-private process, pushed the vote to July 24… (Read more.)
Follow Jacqueline on Twitter @Jacqui_WSCS