Netflix Inches Closer to $200 and 4 Media Titans Making Waves
AOL, Inc. (NYSE:AOL): Current Price: $39.43
Today, AOL Canada's top automotive brand, Autoblog Canada (ca.autoblog.com), and Unhaggle announced that they have entered into a partnership to provide Autoblog Canada users with seamless access to Unhaggle's proprietary car buying tools and marketplace.

Netflix, Inc. (NASDAQ:NFLX): Current Price: $189.72
It probably won't happen today, but Netflix shares have been approaching the $200 mark. As of now, the stock is near the $190 mark.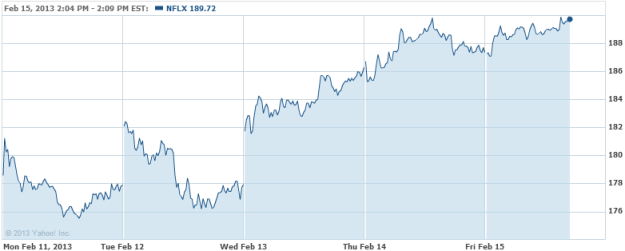 Time Warner Cable Inc. (NYSE:TWC): Current Price: $87.19
The FCC tracked the performance of a number of broadband tiers from cable operators, telcos, and satellite broadband services in the report. Time Warner Cable's 10 Mbps tier saw an average of 9.48 Mbps during peak periods, which delivered 95 percent of its advertised speed in September, according to the FCC. The Insight Communications systems that Time Warner Cable acquired last year was not as successful, as Insight's 10 Mbps tier delivered only 90 percent of its advertised speed during peak hours and its 20 Mbps tier delivering just 79 percent of advertised speeds, the FCC reported.

CBS Corporation (NYSE:CBS): Current Price: $44.06
Amazon.com, Inc. does not mind spending some extra bucks these days when it comes to expanding its streaming video library. Yesterday, the world's largest online retailer saw a boost yesterday after it revealed a new content deal with longtime partner, CBS Corporation. This agreement would increase the CBS content offered to Amazon Prime customers via its streaming service and the timing is perfect.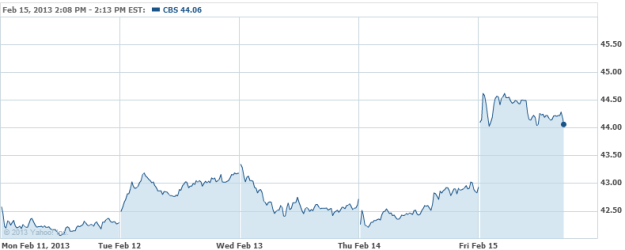 Walt Disney Co. (NYSE:DIS): Current Price: $55.34
On Thursday, the nation's second-largest pension fund stated that it will vote against the nomination of a number of directors at Disney's next shareholder meeting, including chairman and CEO Bob Iger. The California State Teachers' Retirement System, or CalSTRS, yet again raises the concern that one person should not be both chairman and CEO. In its announcement Thursday, CalSTRS even mentioned Michael Eisner, an executive who left Disney eight years ago.

Investing Insights: Is EMC an Outperform?