Netflix Stumbles on Q2 Subscriber Data and 2 Other Hot Stocks to Watch
Netflix Inc. (NASDAQ:NFLX): Current price $252.89
Netflix shares are down by more than 5 percent just before noon in New York, following reaction to the firm's second-quarter growth report regarding new subscribers. Late on Monday, Netflix said that it added 630,000 new subscribers in the United States during the quarter, but some analysts were disappointed, as they had expected up to 800,000 new subscribers. Analyst Andy Hargreaves at Pacific Crest Securities, downgraded his rating on Netflix to Sector Perform, or Neutral, from Outperform, primarily due to worries about valuation connected with growth prospects for the stock price.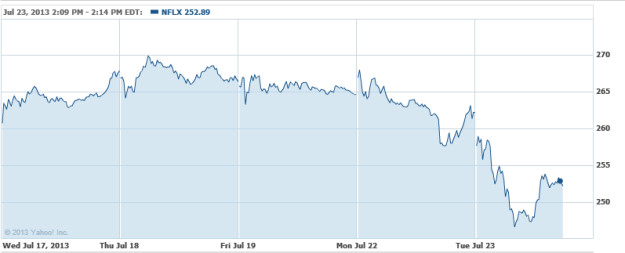 Dell Inc. (NASDAQ:DELL): Current price $12.95
Many of Dell's big shareholders are still not sold on Michael Dell's $24.4 billion buyout offer, and the firm is said to be thinking about delaying a shareholder vote for the second time in a week. The New York Post reported that such a maneuver might be for the purpose of letting Mr. Dell push forward the date of record for shareholders who are eligible to vote in the $13.65-per-share transaction. As it stands at this time, shareholders of record as of June 3 are permitted to vote on the offer. Under Delaware law, Dell must hold its meeting by August 3, or 60 days from the record date.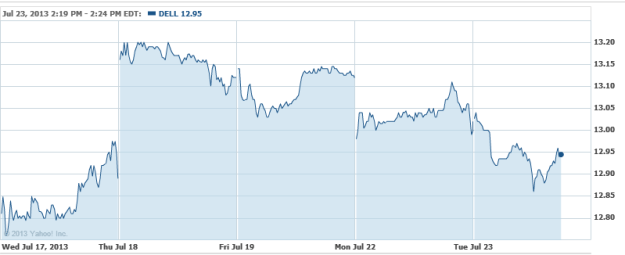 Array BioPharma Inc. (NASDAQ:ARRY): Current price $6.19
Results from a small mid-stage study announced on Tuesday indicated that an experimental pill created by Array improved lung function in patients having asthma brought on by allergies. Array shares are up by around 13 percent Tuesday, on the data from the study of ARRY-502 in allergic asthma. Meanwhile, the company is searching for a partner to fund future development of the drug. The firm says that its ARRY-502 is designed to block the inflammatory activity of Th2 T cells, which in turn decreases the coughing and breathing difficulties exhibited in asthma patients, marking a potentially new method of treating asthma.