Netflix's Agreement with Warner Bros., Target's Dramatic New Ads: Consumer Business Recap
Netflix (NASDAQ:NFLX): Closing price $99.20
On Monday, Netflix and and Warner Bros. Television Group said that they have reached a licensing agreement which permits the former's members in the United States to view complete previous seasons of serialized dramas produced by Warner Bros. for top broadcast and cable networks. Among the shows that Netflix will feature next year will be Revolution, a drama for NBC by J.J. Abrams' Bad Robot Productions, set in a post-apocalyptic America, which was the number one new series of the 2012-13 television season; and Political Animals, the USA Network miniseries starring Sigourney Weaver in a Golden Globe and Screen Actors Guild Award- nominated role as a former First Lady serving as Secretary of State.
Krispy Kreme Doughnuts (NYSE:KKD): Closing price $10.92
Krispy Kreme and Jamba (NASDAQ:JMBA) could be takeover targets, if the trend of restaurants and coffee companies being acquired in droves continues. Takeovers of these types of companies skyrocketed to $6.1 billion in 2012, which marked the sector's highest point since 2008, says data collected by Bloomberg. Fuel for the drive is that sales growth at coffee and snack shops is projected to outstrip fast-food chains through 2017, according to data from IBISWorld. Since plans for the acquisition of Caribou Coffee Co. were announced, Krispy Kreme shares have risen by 21 percent to the highest in over five years, while those of Jamba jumped 19 percent.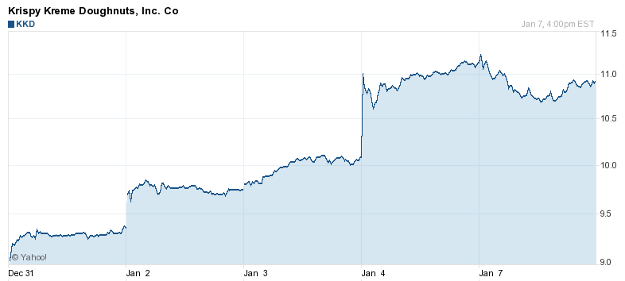 Are these stocks a buy or a sell? Let us help you decide.  Check out our Wall St. Cheat Sheet Stock Picker Newsletter now>>
Target Corporation (NYSE:TGT): Closing price $61.30
Target has a new nationwide advertising campaign that lampoons 'high-fashon' ads, by showing models dealing with products typically used by 'ordinary' folks. For example, one of the ads shows a model in a white dress and high heels walking by muffin and cake mix packages that explode in different colors, followed by her crushing an egg with her hand. Ah, the elegant but mundane drama of cooking breakfast!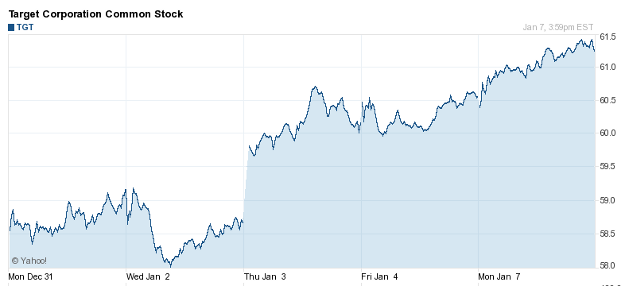 ConAgra Foods (NYSE:CAG): Closing price $30.17
Con Agra said Monday that it offers to sell, subject to market and other conditions, around $240 million of its common stock via an underwritten public offering. The firm also granted the underwriter a 30-day option to buy up to an additional $35  million worth of its common stock. The company will use the net proceeds from the offering to fund, in part, the previously announced purchase of Ralcorp Holdings.
Don't Miss: Has AT&T Unleashed a Netflix Killer?