Netflix's Arrested Development: 'Showstealer Pro Trial Version'
Netflix's (NASDAQ:NFLX) development has been arrested — at least in the markets — thanks to critical reviews of its semi-original series "Arrested Development." The fourth season of the show debuted on Netflix's online streaming service on May 26 after being canceled years ago. Why did Netflix decide to revive a canceled television show? Because the show's DVD sales helped make it a cult classic. What is Netflix if not the eventual, streaming replacement of DVDs? Thanks to Netflix, there is not that much incentive to purchase expensive DVD box sets of television show seasons anymore.
So why the mixed reactions about "Arrested Development"? The new season is different than the original. The cast interacts with each other less and some of the episodes feel like they brought specific cast members in just for the episode. The quirky Bluth family members have all taken a different path and the show tells their stories in episode long bits. Reviving "Arrested Development" was a risky move for Netflix and scenes that are flashbacks from previous seasons using existing footage have been jokingly watermarked with the phrase "Showstealer Pro Trial Version" by Netflix. Interestingly, flashbacks that were shot for the Netflix-produced episodes feature Seth Rogan as a much younger George Bluth. Funny stuff, but enough to overcome the changed chemistry in Netflix's new season?
Netflix CEO Reed Hastings said "we're really not focusing on the day-one ratings, it's really over the first year" in a recent interview, CNET reports. Alright Netflix. You have our attention now and between "Arrested Development" and "House of Cards," you've shown that you can produce premium content. Now you have to show us that you can produce content good enough that it drives subscriptions for your service. Below is a chart of the company's stock price over the past month. Keep in mind that May 26 was when the entire new season of "Arrested Development" hit Netflix's subscription video streaming service for consumption. It's like buying DVD box sets of seasons but without the cost…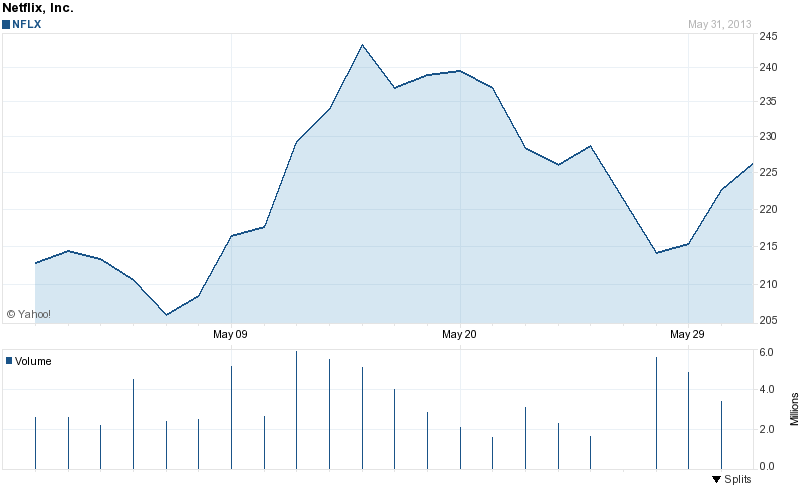 (Chart: Yahoo! Finance)
Follow Mont on Twitter @mfcessna
Don't Miss: 10 Ways the Internet is Changing the World.