Netscout Falls Short of Consensus and 4 Stocks Enjoying 52-Week Highs
Sun Life Financial (NYSE:SLF): Closing price $28.63
Sun Life Financial and Khazanah Nasional Berhad partnering to purchase 98 percent of CIMB Aviva Assurance Berhad, a Malaysian life insurance firm, and CIMB Aviva Takaful Berhad, a Malaysian takaful company, at a price of C$586 million. Sun Life and Khazanah are each paying C$293 million, which includes a new 20-year exclusive bancassurance arrangement with CIMB Bank. The parties are each buying 49 percent of the firm from Aviva International Holdings Limited and CIMB Group Holdings Berhad, respectively. CIMB Group will keep a 2-percent interest in the company. Shares closed up 1.06 percent on the day at $28.63, and have traded in a 52-week range of $18.94 to $28.48.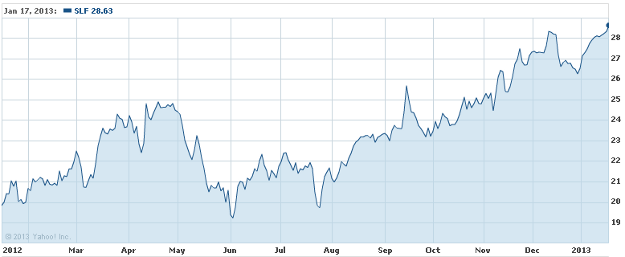 Start 2013 better than ever by saving time and making money with your Limited Time Offer for our highly-acclaimed Stock Picker Newsletter. Click here for our fresh Feature Stock Pick now!
Emerson Electric Company (NYSE:EMR): Closing price $55.35
Emerson Process Management, a global division of Emerson, has won a contract to apply its Ovation expert control system at the Crescent Dunes Solar Energy Project near Tonopah, Nevada. Expected to come online at the end of this year, this 110-megawatt concentrated solar power project will be the first commercial-scale solar facility in the United States to generate power from solar energy that is captured and stored in liquid molten salt. The project is being developed by Tonopah Solar Energy, which is an affiliate of SolarReserve, and should produce enough clean, renewable electricity to power more than 75,000 homes during peak electricity demand, and will be conducted by Cobra Thermosolar Plants as engineering, procurement and construction contractor. Shares closed up 1.43 percent on the day at$55.35, having been traded in a 52-week range of $43.59 to $55.60.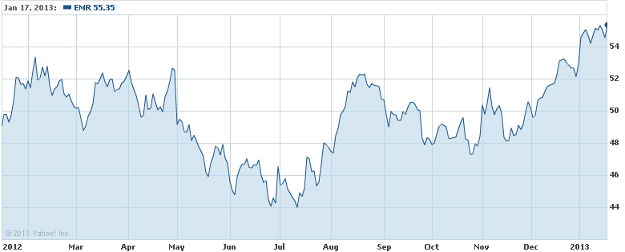 Goldman Sachs Group (NYSE:GS): Closing price $141.01
Investor pressure for cost reduction (i.e. cutting jobs and compensation) has finally won over at Goldman Sachs this week, as the top executives had put off such measures out of fear that the company would be unprepared when the economy did improve sufficiently for business to return, say sources to Reuters. Shares closed down 0.06 percent on the day at $141.01, and have traded in a 52-week range of $90.43 to $141.58.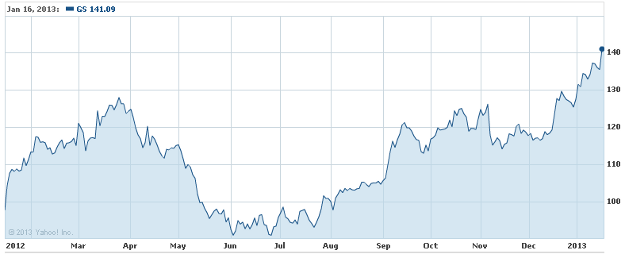 Netscout Systems (NASDAQ:NTCT): Closing price $25.65
The firm estimates its fiscal year 2013 adjusted revenue between $347 million and $352 million, with a consensus of  $350.08 million. GAAP revenue is forecast between $346 million and$351 million. Shares closed down 5.56 percent on the day at $25.65, having been traded in a 52-week range of $17.75 to $27.57.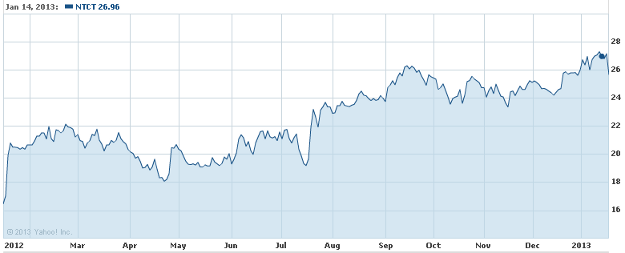 Aecom Technology Corporation (NYSE:ACM): Closing price $25.05
AECOM Technology is constructing a new 465,000-square-foot addition for Stony Brook University Medical Center's new Medical and Research Translation Building and New Beds Support Tower on Long Island. The approximate cost of the new facility is $275 million, with the project scheduled for completion during 2016. Shares closed up 0.48 percent on the day at $25.05, and have been traded in a 52-week range of $14.50 to $25.25.

Don't Miss: Will Intel Underperform in the First Quarter?