Neutral Tandem Earnings: Profitability Streak Continues
In spite of rising revenues, Neutral Tandem, Inc.'s (NASDAQ:TNDM) profit declined in the first quarter. Neutral Tandem, Inc. provides tandem interconnection services principally to competitive carriers, including wireless, wireline, cable and broadband telephony companies.
Don't Miss: Wall St. Cheat Sheet's newest Feature Trades of the Month!
Neutral Tandem Earnings Cheat Sheet for the First Quarter
Results: Net income for Neutral Tandem, Inc. fell to $8.2 million (24 cents/share) vs. $8.5 million (25 cents/share) a year earlier. A decline of 3.4% from the year earlier quarter.
Revenue: Rose 48.2% to $66.4 million YoY.
Actual vs. Wall St. Expectations: TNDM fell in line with the mean analyst estimate of 24 cents/share. Estimates ranged from 20 cents per share to 28 cents per share.
Quoting Management: "We are pleased with our first quarter results," said Ed Evans, Chief Executive Officer of Neutral Tandem. "While I have only been in my role as CEO for six weeks, I have been impressed with the integration of Tinet and Neutral Tandem and the focus and drive of our employee base. Over the next quarter, we will continue working to enhance the strategic direction of the business. My goal is to continue to build on the great work that has been completed to date and to identify new ways to grow our company both organically as well as through innovation and M&A opportunities."
Key Stats:
Net income has dropped 17.2% year over year on average across the last five quarters. Performance was hurt by a 42.2% decline in the fourth quarter of the last fiscal year from the year earlier quarter.
Competitors to Watch: AT&T Inc. (NYSE:T), CenturyLink, Inc. (NYSE:CTL), Verizon Communications Inc. (NYSE:VZ), AboveNet, Inc. (NYSE:ABVT), Windstream Corporation (NASDAQ:WIN), Consolidated Communications Hldgs. Inc (NASDAQ:CNSL), Xfone, Inc. (AMEX:XFN), Sprint (NYSE:S), Cordia Corp (CORG), and Juma Technology Corp (JUMT)
Stock Performance: Shares of TNDM are up 2.44% from the previous close.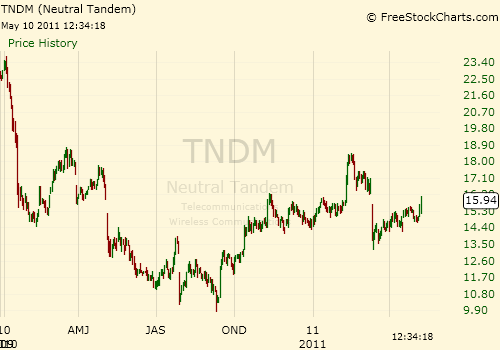 Don't Miss Wall St. Cheat Sheet's newest Feature Trades of the Month!