New Lawsuit for Bank of America Brought by DOJ and 2 Other Hot Stocks to Watch
Bank of America Corp. (NYSE:BAC): Current price $14.36
CEO Brian Moynihan may be trying to put the 2008 financial crisis behind the bank, but a new suit brought Tuesday by the Justice Department will likely make that effort more difficult. In the suit, the bank is accused of misleading investors in regards to the quality of loans linked with $850 million in mortgage-backed securities. The Justice Department claims that traders fought off efforts by BofA in 2007 to include risky Alt-A mortgages in a securitization, but those efforts were insufficient to keep investors from being cheated. The complaint outlines friction among bank staff in 2007 and 2008 as they excluded risky Alt-A loans, but left in wholesale debts once derided as "toxic waste" by the firm's then-CEO. The exchanges highlight the growing tension inside Bank of America as it endeavored to sell mortgages only months before the credit markets froze and slumping real estate values caused taxpayer bailouts of the industry.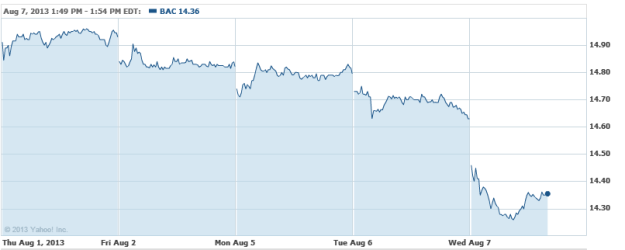 Ford Motor Co. (NYSE:F): Current price $16.83
Ford said Tuesday that July sales in China jumped by 71 percent from a the same period in 2012, to 72,834 wholesale units. Thus far in 2013, Ford sold 50 percent more vehicles — or 480,555 units — year-over-year compared with an approximate 12 percent increase in passenger car sales in China during the first six months of 2013. The Focus, with shipments that rose a whopping 70 percent from January to July from a year earlier to 218,617 units, led the gains, according to Ford.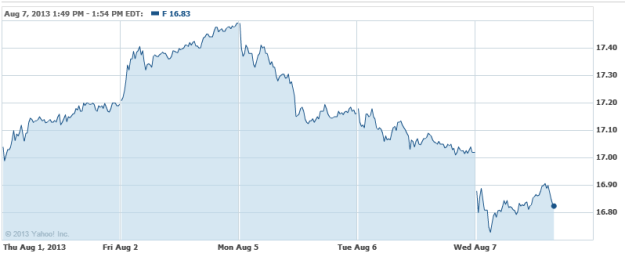 SunEdison Inc. (NYSE:SUNE): Current price $7.39
The silicon wafer maker SunEdison said it anticipates a recovery in solar power installations during the third quarter. The firm, formerly known as MEMC Electronic Materials Inc., said that it expects adjusted solar energy system sales of 60 to 100 megawatts in the third quarter versus 51 MW in the second quarter. In a statement, CEO Ahmad Chatila said, "Business conditions in the second quarter remained challenging, but I am optimistic regarding our prospects for growth through the remainder of this year and into next." Sales in the business plunged 72 percent in the second quarter. Shares are down almost 24 percent on Wednesday in heavy trading.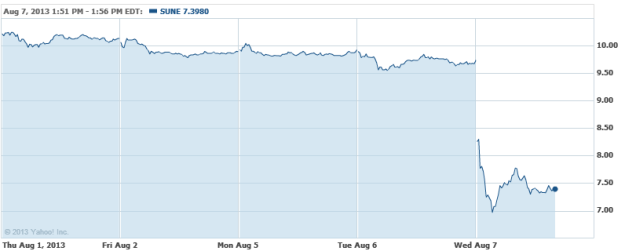 Don't Miss: Why is the Justice Department Coming Down on Bank of America?