NEW RECORD: Foreclosures Top 1 Million. What If Banks Didn't Halt?
First, the bad news:
RealtyTrac reported banks repossessed 1.05 million homes in 2010 — breaking the record of 918,000 homes seized in 2009. The number of foreclosure filings — including default notices, auctions and repossessions — also set a new record of 2.9 million in 2010. That means 1 in every 45 US households received bad news last year. Ouch.
Now, the temporary good news:
Foreclosure filings were reported on 257,747 U.S. properties in December, a  decrease of nearly 2% from the previous month and down 26% from  December 2009 — the biggest annual drop in foreclosure activity since  RealtyTrac began publishing its foreclosure report in January 2005 and giving  December the lowest monthly total since June 2008.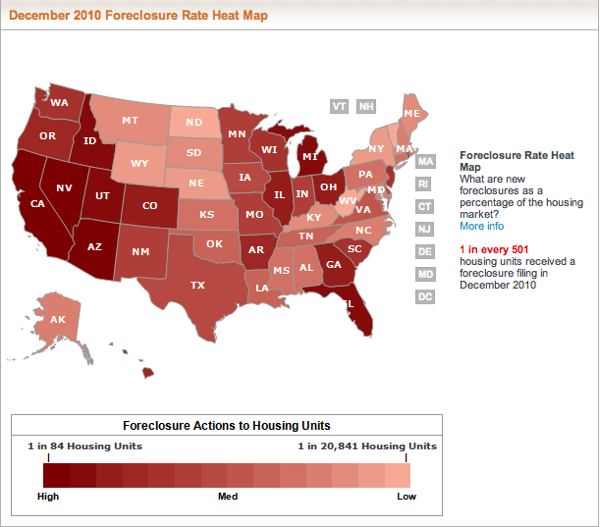 Foreclosures Slowed During Foreclosuregate
However, James J.  Saccacio, CEO of RealtyTrac, notes:
"Total properties receiving foreclosure filings would have easily exceeded 3 million in 2010 had it not been for the fourth quarter drop in  foreclosure activity — triggered primarily by the continuing controversy  surrounding foreclosure documentation and procedures that prompted many major  lenders to temporarily halt some foreclosure proceedings. Even so, 2010 foreclosure  activity still hit a record high for our report, and many of the foreclosure  proceedings that were stopped in late 2010 — which we estimate may be as high  as a quarter million — will likely be re-started and add to the numbers in  early 2011."
So, don't go buying that get-rich-quick course on buying foreclosures and gobbling up tons of properties thinking foreclosures have peaked. 2011 may bring some serious pent up supply.
Don't Miss: Is There a Property Bubble in China? >>
Start Off 2011 by Improving Your Financial Health: Join the winning team of stock pickers with Wall St. Cheat Sheet's acclaimed premium newsletter >>