New Shores, Old Rivals for World-Traveling McDonald's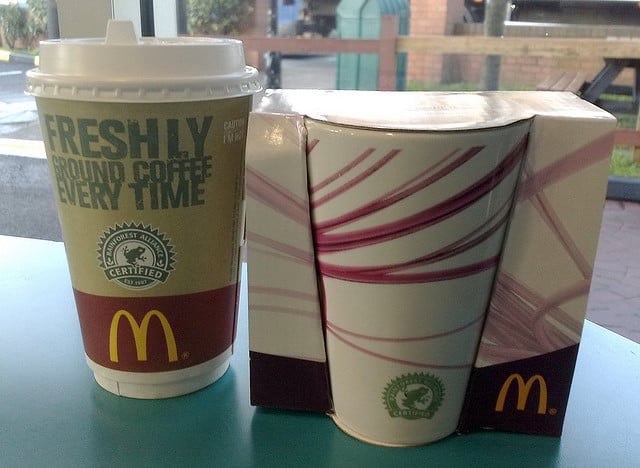 McDonald's (NYSE:MCD) may be late to the fast-food chain party when compared with Burger King (NYSE:BKW) and Yum! Brands Inc.'s (NYSE:YUM) KFC and Pizza Hut, but the company plans to bring its western-style Quarter Pounder burger to Vietnam in early 2014. The world's leading global food service retailer, McDonald's, plans to open its first Vietnam-based restaurant in Ho Chi Minh City, and the menu will include the brand's iconic favorites, from the Big Mac sandwich and cheeseburgers, to the company's world-famous fries.
"McDonald's is a well-loved brand around the world, and we are pleased to be opening in Vietnam and bringing the McDonald's experience of quality food, great service and contemporary design to our 38th country in Asia," said Don Thompson, President and Chief Executive Officer of McDonald's Corporation. "We will be focused on meeting our customers' needs and will work hard to exceed their every expectation," Thompson added.
McDonald's today announced Henry Nguyen, a Vietnamese businessman and the founder of Good Day Hospitality, as developmental licensee for Vietnam to build the brand. Nguyen, who oversees $100 million invested in technology, media, telecommunications, and consumer companies in Vietnam, is the son-in-law of Vietnam's Prime Minister, Nguyen Tan Dung.
McDonald's said the contract with Nguyen as developmental licensee was the result of a rigorous selection process that began years ago. Nguyen brings a strong passion for the company's brand, which he developed while working as a part-time crew member for McDonald's as a young student in the U.S.
"I have been a big fan of McDonald's my whole life and have had so many wonderful experiences there, including one of my first jobs when I was a teenager. I have dreamed of one day opening a McDonald's restaurant in my native country ever since my return to Vietnam more than a decade ago," Nguyen said. "I have been in contact with McDonald's over the years sharing the opportunity that exists in our country," Nguyen added.
Managing Director of Saigon Securities Inc., Pham Ngoc Bich, told Bloomberg that McDonald's expansion in Vietnam would allow it to capitalize on an aspirational young population attracted to Western brands, and with money to spend.  He said the company is late to the country's fast-food market, where Burger King, Yum's KFC, Pizza Hut, South Korea's Lotteria Co. and Jollibee Foods Corp. (NYSE:JFC) of the Philippines have a growing presence.
"Economists typically view the entrance of the multinational fast-food chain into emerging markets as a cachet that heralds the flow of other Western brands, but McDonald's is no front-runner this time around," Bich said in a note to investors. "There is still room for McDonald's. Starbucks (NASDAQ:SBUX), which opened its first outlet in the country earlier this year, has been swamped by eager consumers. McDonald's is very deliberate about moving into new markets, which is why the company did not come to Vietnam sooner. They don't ever want to get anything wrong,'' Bich added.
The opening date in Ho Chi Minh City will depend on a number of factors, such as the pace of construction, Becca Hary, McDonald's spokeswoman, said in an e-mail. "In the longer term, and based on the performance of this initial location, future restaurants will be determined by consumer demand for McDonald's," Hary said.
Vietnam is one of over 65 markets worldwide where the McDonald's Development Licensee structure has been deployed. The developmental license model is a form of franchising that McDonald's has been using for more than 30 years around the world to grow the brand. McDonald's has more than 34,500 locations, serving more than 69 million customers, in more than 100 countries each day. More than 80 percent of McDonald's restaurants worldwide are owned and operated by independent local men and women.