New Sprint Owner Gets $20 Billion in Financing and 2 Other Hot Stocks to Watch
Sprint Nextel Corp. (NYSE:S): Current price $6.71
A Tokyo Stock Exchange statement indicates that SoftBank Corp. will sign a loan agreement for up to $20 billion with 19 banks Friday to help refinance debt from its acquisition of Sprint Corp. Knowledgeable sources say that the financing will help Japan's third-largest mobile carrier lower its borrowing costs. SoftBank will pay a margin of some 110 basis points more than the one-month Tokyo interbank offered rate on a five-year portion of the debt, and around 140 basis points more for a seven-year part, according to the sources. In the fiscal year ended March 2011, the corporation paid an average 5.14 percent for long-term debt.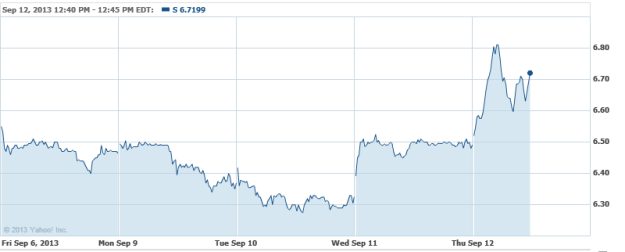 General Electric Co. (NYSE:GE): Current price $23.86
On Thursday, GE Healthcare reported that the revolutionary tech Silent Scan, which significantly quiets MRI exams, is now commercially available and also is growing in clinical adoption on a global basis. Silent Scan eliminates one of the most onerous impediments to patient comfort, which is excessive acoustic noise generated during a scan. Conventional MRI scanners can generate noise over 110 decibels, roughly equivalent to rock concerts, and necessitating ear protection. GE's exclusive Silent Scan technology was created to lower MR scanner noise to ambient sound levels and thus improve a patient's MRI exam experience.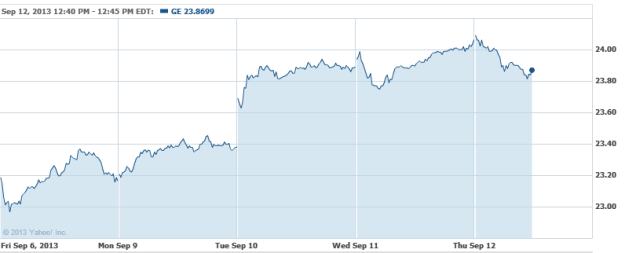 Alcatel-Lucent (NYSE:ALU): Current price $3.50
Alcatel-Lucent and the full service communications provider in Saskatchewan SaskTel, report the successful trial of fiber-optic data transmission that could make possible the delivery of data at speeds of up to 400 gigabytes-per second over a network originally built for 10G traffic. The trial occurred on a live network between Regina and Saskatoon, the latter more than 250 kilometers away. The experiment could lead to the deployment of the Alcatel-Lucent tech, enabling SaskTel to stay ahead of growing demand for broadband access by offering an immediate upgrade to 100G transmission now, moving to 400G in the future as and when required.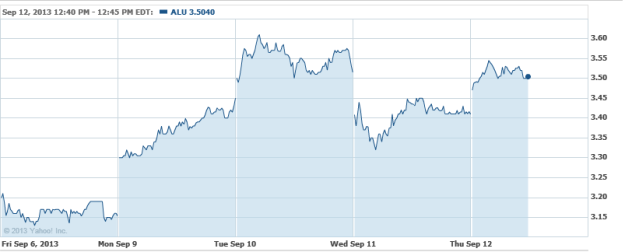 Don't Miss: Hey Nasdaq, It's Finally Time to Say Bye to Dell.