New Super Airline to Trade on the Nasdaq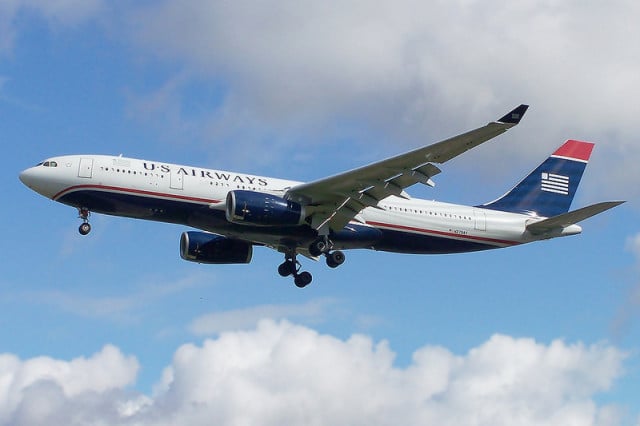 Wondering how you can invest in the world's largest airline that's been created by the merger between AMR Corp.'s (AAMRQ.PK) American Airlines and US Airways (NYSE:LCC)? Wonder no more, as it has been announced that the merged company, now called American Airlines Group, will trade on the Nasdaq under the ticker "AAL," Reuters reports.
This represents a change in exchanges for both companies, as US Airways trades on the New York Stock Exchange, where AMR Corp. also traded before filing for bankruptcy. "Nasdaq offers a most advanced trading platform driven by innovation and efficiency — qualities that complement the new American," Tom Horton, current AMR Chair and CEO, and future Chair of the newly merged company, said in the statement seen by Reuters, announcing the application to list the common shares on Nasdaq.
On Tuesday, the U.S. Justice Department announced that it had reached an agreement with the two airlines and will allow their merger to go through. The DoJ had previously sued to block the merger, saying that it would cut down on competition in the airline industry and raise the price of airfare for consumers. In the agreement, US Airways and American have to give up slots at airports around the country and are being required to sell them to low-cost carriers rather than other giant companies.
Attorney General Eric Holder said at the time, "This agreement has the potential to shift the landscape of the airline industry. By guaranteeing a bigger foothold for low-cost carriers at key U.S. airports, this settlement ensures airline passengers will see more competition on nonstop and connecting routes throughout the country," but recent reports have suggested that the airlines really aren't giving up much at all.
In fact, it seems as though the companies are essentially going forward with the merger as planned. They've maintained their previous revenue goals and plans to save $1 billion through the transaction. While they are giving up some takeoff and landing slots, they'll still own over half of spots at Reagan National and will dominate at other airports as well.
Consumer advocacy groups are worried that the merger will end up raising prices for consumers after all, and analysts have called the agreement a win for the airlines, but more won't be known until the airlines make their divestitures. For now, it looks like investors who pick up American Airlines Group stock will benefit more from the merger than your average consumer looking to pick up a plane ticket.
Follow Jacqueline on Twitter @Jacqui_WSCS
Don't Miss: Will the US Airways-American Airlines Merger Mean Higher Airfare Prices?