Newcastle Plans Public Offering and 3 Heavily Traded Stocks Buzzing Now
YUM! Brands (NYSE:YUM): Current price $65.01
Credit swaps protecting against losses on the debt of Yum! Brands Inc. rose 4.1 basis points to 70 basis points as of 10:30 a.m. in New York, according to data provider CMA, which is owned by McGraw-Hill Co. and compiles prices quoted by dealers in the privately negotiated market.

Save time and make money with our LOWEST ADVERTISED PRICE EVER to help you achieve your financial goals in 2013. This is a LIMITED TIME OFFER, so get your Stock Picker Newsletter now!
Research In Motion Limited (NASDAQ:RIMM):Current price $11.92
According to DigiTimes, Research in Motion Limited and other smartphone brands like Huawei, ZTE and Pantech are expected to score more points in the United States smartphone market this year. Industry sources have reported that RIM is expected to see next-generation Blackberry smartphones get a higher market share than the Windows Phone 8, in 2013.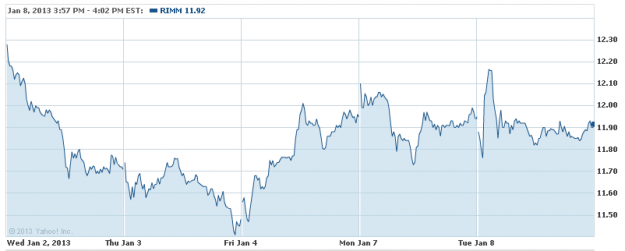 Are these stocks a buy or sell? Let us help you decide. Check out our Stock Picker Newsletter now.
Alcatel Lucent S.As (NYSE:ALU): Current price $1.60
Trimble (NASDAQ: TRMB) announced today that its ThingMagic® Mercury6 (M6) Reader will be part of theNG Connect Program's Connected Service Vehicle, showcasing a full suite of cloud-based services that are designed to deliver office productivity to vehicle-based workers. The NG Connect Program, founded by Alactel Lucent S.A., is a multi-industry ecosystem dedicated to the creation of the new generation connected user experience. NGConnect is comprised of more than 190 Contributing and Associate member companies including leading network, consumer electronics, application and content providers. Twelve proof of concept demos will be featured this year in the Alcatel-Lucent CES booth.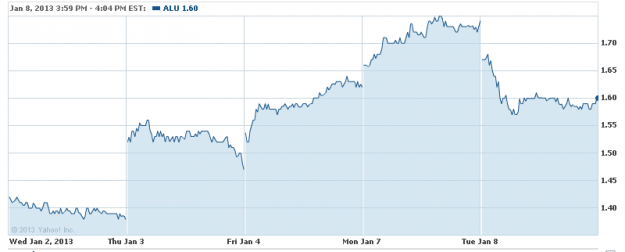 Newcastle Investment Corp. (NYSE:NCT): Current price $9.89
Newcastle Investment Corp.  announced that they plan to make a public offering of 40 million shares of common stock. The company also intends to grant the underwriters an option of 30 days to purchase up to an additional 6 million shares of their common stock.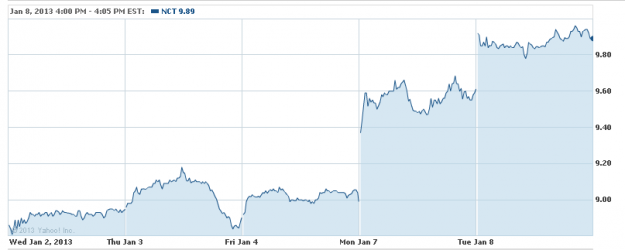 Investing Insights: Is There Too Much Optimism Surrounding AK Steel?