Newell Rubbermaid Earnings: Streak of Revenue Increases is Broken
Falling revenue did not prevent S&P 500 (NYSE:SPY) component Newell Rubbermaid Inc. (NYSE:NWL) from reporting a profit boost in the first quarter. Newell Rubbermaid Inc. markets consumer and commercial products, including housewares, hardware and home furnishings.
Don't Miss: Wall St. Cheat Sheet's newest Feature Trades of the Month!
Newell Rubbermaid Earnings Cheat Sheet for the First Quarter
Results: Net income for the housewares and accessories company rose to $75.7 million (25 cents/share) vs. $58.4 million (19 cents/share) in the same quarter a year earlier. A rise of 29.6% from the year earlier quarter.
Revenue: Fell 0.3% to $1.3 billion YoY.
Actual vs. Wall St. Expectations: NWL fell short of the mean analyst estimate of 28 cents/share. Estimates ranged from 25 cents per share to 31 cents per share.
Quoting Management: "First quarter results represent a solid start to the year, especially our earnings and gross margin performance," said Mark Ketchum, President and Chief Executive Officer. "We remain confident in our ability to meet our full year guidance of four to five percent core sales growth, gross margin expansion of 50 to 75 basis points and normalized EPS growth of 10 to 12 percent. Our international businesses led the way, building on already strong momentum, with core sales growth of almost five percent. Developing markets, where we have substantially increased our focus and investment, grew double digits in the first quarter."
Key Stats:
A year-over-year revenue decrease last quarter snaps a streak of two consecutive quarters of revenue increases. Revenue rose 3.4% in the fourth quarter of the last fiscal year and 2.6% in the third quarter of the last fiscal year.
Net income has increased 16.9% year over year on average across the last five quarters. The biggest gain came in the first quarter of the last fiscal year, when income climbed 73.3% from the year earlier quarter.
Competitors to Watch: Jarden Corporation (NYSE:JAH), The Female Health Company (NASDAQ:FHCO), WES Consulting Inc (LUVU), The Procter & Gamble Co. (NYSE:PG), Fortune Brands, Inc. (NYSE:FO), Carlisle Companies, Inc. (NYSE:CSL), Katy Industries, Inc. (KATY), The Clorox Company (NYSE:CLX), and Condomi AG (NYSE:CAG).
Today's Performance: Shares of NWL closed down 3.4%.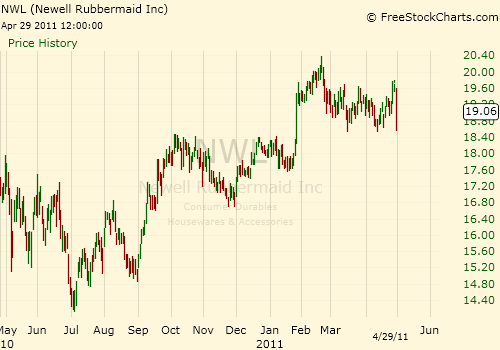 Don't Miss Wall St. Cheat Sheet's newest Feature Trades of the Month!