News Corp Agrees to Pay for Interception and 4 Media Titans Making Waves
AOL, Inc. (NYSE:AOL): Current Price: $33.56
A gain on an asset sale assisted AOL Inc. in raising its net income to 57 percent during Q4, despite the reduced profits from its core businesses. According to AOL, its first overall growth in revenue in eight years, as a 13 percent rise in ad sales, offset a 10 percent decline in Internet-access subscription revenue. Overall revenue saw a 4 percent rise to $600 million.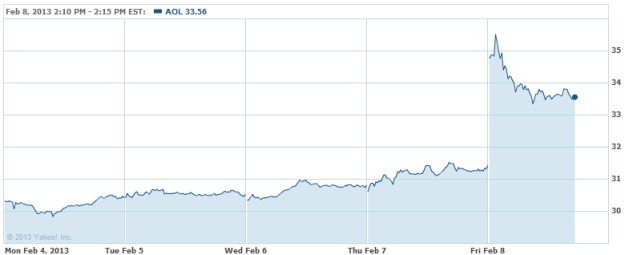 Netflix, Inc. (NASDAQ:NFLX): Current Price: 181.84
Most of Redbox's newer content is from its deal with pay cabler Epix. Epix has had this deal with Netflix since 2010, and recently, Epix signed on with Amazon in September of 2012.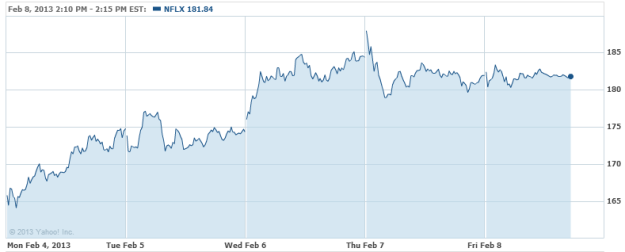 Time Warner Cable Inc. (NYSE:TWC): Current Price: $88.36
Now, the company's subscribers are able to watch some of their favorite shows on their computers. This week, the cable giant added a number of free and subscription on-demand content to the PC and Mac versions of its TWC TV app. The new feature gives Time Warner subscribers the ability to watch over 4,000 on-demand TV shows, along with movies from 91 providers, for no additional cost, according to a blog post by Jeff Simmermon, Director of Digital Communications for Time Warner Cable.

Comcast Corporation (NASDAQ:CMCSA): Current Price: $38.64
Comcast's digital adapters, which are needed for older analog TVs, are now $1.99 a month. They were previously free.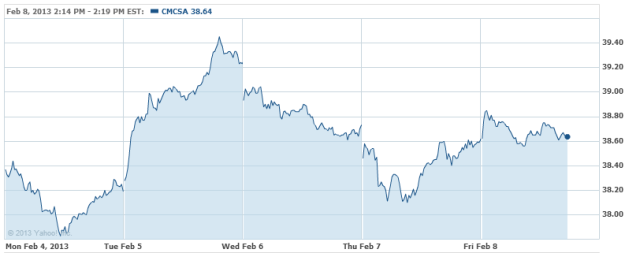 News Corp. (NASDAQ:NWSA): Current Price: $28.18
Lawyers for Sarah Ferguson, the former wife of Prince Andrew, have stated that Rupert Murdoch's News Corp. has agreed to pay her for repeatedly intercepting her voicemail messages.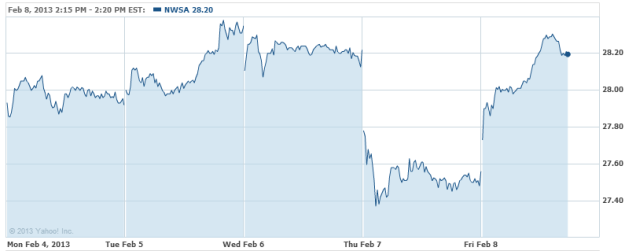 Don't Miss: How Will the News Media Make Money in 2013?