News Corp Moves to Sever Publishing Arm and 2 Other Hot Stocks to Watch
News Corp. (NASDAQ:NWSA): Current price $31.81
Following a shareholder vote Tuesday morning, News Corp. Chairman Rupert Murdoch has moved one step closer to severing his declining publishing unit.  Approval of the breakup plan was given at a special meeting in New York, according to Murdoch. The publishing group will retain the News Corp. name, while the entertainment division will go by 21st Century Fox after the June 28 split, which should happen because Murdoch holds the plurality of votes through his family's trust, having 39 percent of Class B voting shares, which could ensure passage of the proposal. The chairman's continual commitment to newspapers led investors to press for a split, so that the market would recognize the value of entertainment assets like the Fox News and FX cable networks.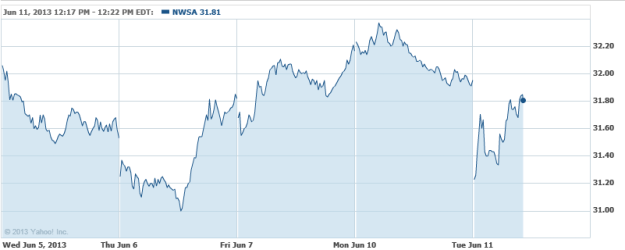 Lululemon Athletica (NASDAQ:LULU): Current price $68.51
Shares virtually collapsed on Tuesday on fears that it will difficult for the pricey yogawear maker and retailer to replace the outgoing Chief Executive Christine Day, who was the Vancouver firm's public face. Day announced her surprise exit plans after the close on Monday, and was the driving force behind Lulu's rapid growth rate, and its transition from niche appeal to one that is more broad-based. Saying that it a "personal decision," Day announced that she will step down once the company finds her replacement.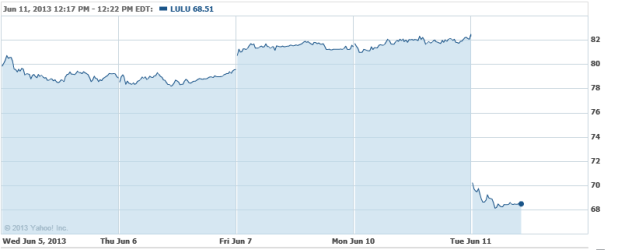 Questcor Pharmaceuticals (NASDAQ:QCOR): Current price $44.78
The firm reported on Tuesday it will pay a minimum of $135 million to purchase an autoimmune and inflammatory disease drug manufactured by Novartis, which has its shares up more than 22 percent at noon. Questcor said that it will shell out $60 million upfront for Synacthen and Synacthen Depot, which are approved in some 40 countries as a treatment for illnesses that include rheumatoid diseases, chronic skin conditions, ulcerative colitis, acute exacerbations of multiple sclerosis, and nephrotic syndrome, which is a kidney condition. The buyer said it will make at least $75 million in additional payments during the next several years. These drugs are not yet approved in the United States, but Questcor intends to seek approval, and the agreement includes terms that are meant to ensure that the firm will seek approval and subsequently market them.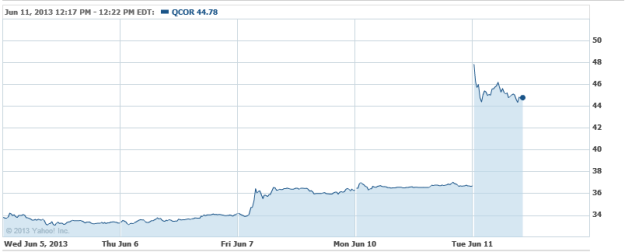 Investing Insights: Is Groupon A Risky Investment?