News Corp. Moving Closer to Split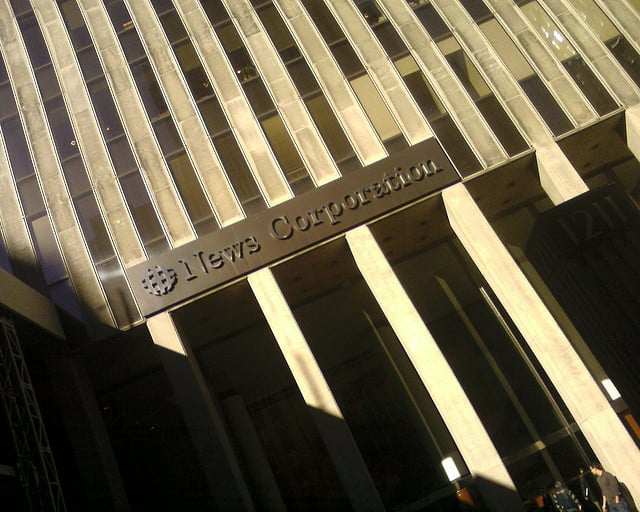 News Corp. (NASDAQ:NWSA) shareholders have agreed to a plan to split the company's publishing division, which will keep the News Corp. name, from the entertainment division, which will be renamed 21st Century Fox.
The move comes after years of criticism about Chairman and Chief Executive Officer Rupert Murdoch's loyalty to the dying newspaper industry. News Corp. believes the split will allow the company to recognize the entertainment division's full value. Fox News, FX cable networks, and the 20th Century Fox film studio will all be a part of 21st Century Fox. News Corp. will be focused mostly on newspapers, retaining ownership of The Wall Street Journal, New York Post, and several other newspapers in addition to HarperCollins book publishing.
"Both companies will be uniquely positioned to execute on their respective strategic objectives and to lead their industries forward," Murdoch said at the shareholder meeting in New York City Tuesday morning. "I am confident in their future prospects and the value each will create for its stockholders." Some shareholders took the opportunity to express their faith in the decision to split and Murdoch's leadership in general at the meeting.
News Corp. will have to enact some heavy cost-cutting to stay afloat as the struggling newspaper industry continues to lose advertising dollars. The New York Post and Murdoch's chain of Australian newspapers have continued to lose money. Bloomberg reports that the company's publishing business lost $1.89 billion in the last fiscal year. The new News Corp. will start with $2.6 billion in cash and will move from there to start a $500 million stock buyback. The split is set to occur June 28.
Whether the 82-year-old Murdoch can figure out how to make publishing profitable in the modern era remains to be seen. Murdoch will be chairman and CEO of 21st Century Fox while remaining chairman of News Corp. as well.
Don't Miss: SoftBank Ups the Ante on Sprint Bid.