News Corp to Become Two Separate Companies and 2 More Hot Stocks to Watch
News Corp. (NASDAQ:NWSA): Current price $33.17
On Friday, News Corp. announced that its board has signed off on plans to divide its entertainment and publishing units into two separate entities, with the target date for the split as June 28. The portion holding its TV and movie properties will become 21st Century Fox, and the new News Corp., a smaller entity, will concentrate upon newspapers and publishing. Both new companies will be publicly traded. In addition, the board also okayed a program for the publishing business to repurchase $500 million of shares, following the split. Shareholders are expected to approve the split on June 11.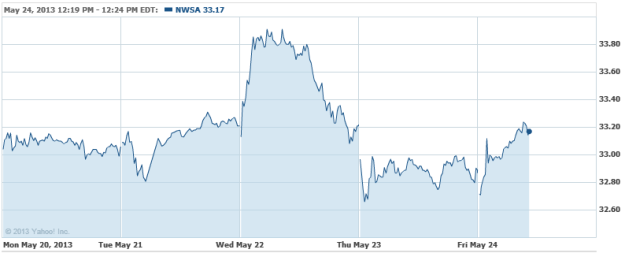 Cisco Systems (NASDAQ:CSCO): Current price $23.60
Cisco said on Friday that it has finalized its purchase of privately-held Ubiquisys, headquartered in Swindon, United Kingdom. Ubiquisys provides intelligent 3-gigabyte and long-term evolution small-cell technologies for seamless connectivity across mobile heterogeneous networks for service providers. The latter's employees will be joined into the Cisco Mobility Business Group, reporting to Vice President and General Manager Partho Mishra of Service Provider Small Cell Technology Group. Through the terms, Cisco is paying roughly $310 million in cash and retention-based incentives to buy the entire business and operations of Ubiquisys.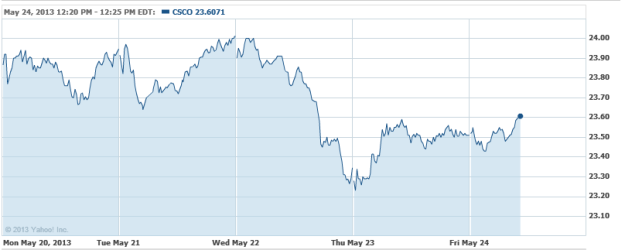 ZIOPHARM Oncology (NASDAQ:ZIOP): Current price $2.54
ZIOPHARM has announced that Chief Executive Jonathan Lewis, M.D., Ph.D., will present at the 38th Annual Deutsche Bank Health Care Conference on May 29th, at 8:00 a.m. Eastern Time, at the Westin Boston Waterfront Hotel in Boston. ZIOPHARM Oncology is a biopharmaceutical firm that concentrates upon the development and commercialization of new cancer therapies.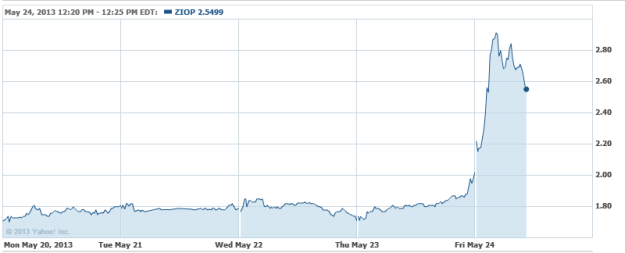 Don't Miss: Why Did Protesters Disrupt Cablevision's Meeting?