News International Is Now a "Corporate Suspect"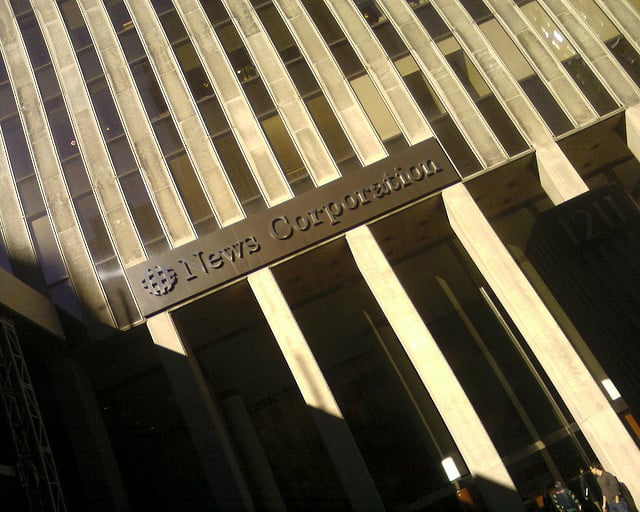 An exclusive report from The Independent reveals that the Metropolitan Police are currently investigating News International, News Corp.'s (NASDAQ:NWSA) British subsidiary, as a "corporate suspect" related to hacking and bribing. An "active investigation" has been opened into recently rebranded News UK, which could have broader implications for News Corp.' United States operations.
So far, one of Rupert Murdoch's most senior lawyers has been interviewed under caution along with two senior figures within the company. The new action by Metropolitan Police caused U.S. executives to call for dramatically scaled back cooperation and an analysis regarding the effects of a corporate charge concluded that the result could "kill the corporation and 46,000 jobs would be in jeopardy."
News Corp. lawyers have repeatedly asked the Metropolitan Police to avoid prosecuting the company as it would be thousands of jobs at risk. And last year, Gerson Zweifach, the group general counsel of News Corp, told police, "Crappy governance is not a crime. The downstream effects of a prosecution would be apocalyptic. The US authorities' reaction would put the whole business at risk, as licences would be at risk."
The campaigning Labour MP, Tom Watson, said, "[Murdoch] is responsible for the corporate culture that allowed this scandal to damage his global empire. I hope that other jurisdictions like Russia will begin to investigate the activities of News Corp around the world."
Regarding News Corp's analysis of the investigation and the potential loss of jobs, Watson said, "The doom-laden internal analysis that the thousands of people who actually add value to the company may lose their jobs is bogus. If News Corp wants to clean up its act, it can easily do so by replacing the Murdochs with people who understand corporate social responsibility."
Metropolitan Police lawyers identified News International (News UK) as suspects in October of 2011, but the company did not become aware of its status until April 2012 when the police asked MSC for "minutes of board meetings." The move sparked chairman Lord Grabiner to call for a stop to police cooperation.
"A suspect which is being asked to provide material for use in the investigation into its own liability is entitled to be advised that it is under suspicion in order that it can be advised of its rights and make informed decisions," Grabiner said.
While the dismissal of corporate prosecution due to a company being a major employer has no legal basis, former Prime Minister Tony Blair ordered the Serious Fraud Office to drop a three-year pursuit of BAE Systems in 2006 because it would affect "thousands of British Jobs" and cited the "public interest."
On Friday night, a spokesman for UK News said, "We have co-operated with all relevant authorities throughout the process and our history of assistance is a matter of record in Lord Justice Leveson's report."
And a Metropolitan Police spokesman simply said, "We are not prepared to discuss this."
Investing Insights: What Will Cisco Do After This Earnings Release?