NextEra Energy Earnings: Net Income Drops Two Straight Quarters
S&P 500 (NYSE:SPY) component NextEra Energy, Inc. (NYSE:NEE) posted a decrease in profit as revenue declined. NextEra Energy, Inc. provides electricity-related services through two operating subsidiaries, FPL and FPL Energy.
Don't Miss: Wall St. Cheat Sheet's newest Feature Trades of the Month!
NextEra Energy Earnings Cheat Sheet for the First Quarter
Results: Net income for the electric utilities company fell to $268 million (64 cents/share) vs. $556 million ($1.36/share) a year earlier. A decline of 51.8% from the year earlier quarter.
Revenue: Fell 88.2% to $428 million YoY.
Actual vs. Wall St. Expectations: NEE fell short of the mean analyst estimate of 96 cents/share. Estimates ranged from 76 cents per share to $1.07 per share.
Quoting Management: "NextEra Energy delivered solid results in the first quarter of 2011. At Florida Power & Light, net income was up more than seven percent over the prior-year comparable quarter, primarily due to increased investment in the business. Those investments have allowed FPL to provide its customers with 99.98 percent service reliability and to significantly improve the efficiency of its power generation fleet, saving customers hundreds of millions of dollars in fuel costs and providing low bills for residential and business customers alike. At NextEra Energy Resources, we signed power purchase agreements for an additional 400 megawatts of wind capacity. In addition, we are very encouraged that California adopted a robust renewable portfolio standard; we look forward to doing additional business in the state," said NextEra Energy Chairman and CEO Lew Hay.
Key Stats:
The company has now seen net income fall in each of the last two quarters. In the fourth quarter of the last fiscal year, net income fell 24.4% from the year earlier quarter.
Competitors to Watch: Exelon Corporation (NYSE:EXC), El Paso Electric Company (NYSE:EE), Entergy Corporation (NYSE:ETR), The Southern Company (NYSE:SO), FirstEnergy Corp. (NYSE:FE), PPL Corporation (NYSE:PPL), Pepco Holdings, Inc. (NYSE:POM), American Electric Power Co., Inc. (NYSE:AEP), Northeast Utilities System (NYSE:NU), and Constellation Energy Group, Inc. (NYSE:CEG).
Today's Performance: Shares of NEE closed down 0.46%.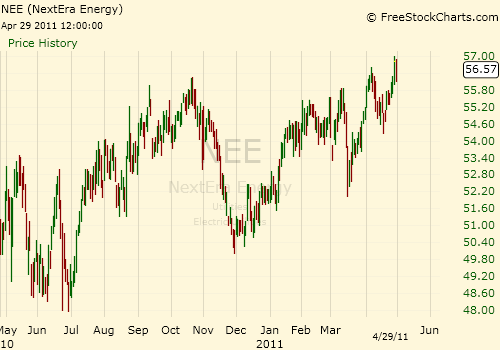 Don't Miss Wall St. Cheat Sheet's newest Feature Trades of the Month!