Nicor Earnings: Revenues and Net Income Fall
S&P 500 (NYSE:SPY) component Nicor Inc. (NYSE:GAS) reported its results for the first quarter. Nicor Inc. is a holding company which serves 2.2 million customers in most of the northern third of Illinois.
Don't Miss: Wall St. Cheat Sheet's newest Feature Trades of the Month!
Nicor Earnings Cheat Sheet for the First Quarter
Results: Net income for Nicor Inc. fell to $45.2 million (98 cents/share) vs. $60.5 million ($1.33/share) a year earlier. A decline of 25.3% from the year earlier quarter.
Revenue: Fell 13.1% to $1.04 billion YoY.
Actual vs. Wall St. Expectations: GAS beat the mean analyst estimate of 83 cents/share. Estimates ranged from 83 cents per share to 83 cents per share.
Quoting Management: "We're off to a solid start in 2011, with consolidated first quarter results that are on track to achieve our full-year earnings outlook," said Russ Strobel, Nicor's Chairman, President and Chief Executive Officer. "Excluding last year's one-time income related to the bad debt tracker ($31.7 million pre-tax), our gas distribution business results were improved year-over-year. Tropical Shipping's revenues were lower than we had expected, as challenging markets in the Bahamas and Caribbean continue to impact volumes. Our other energy ventures are performing in-line with our expectations. We of course remain focused on obtaining the required regulatory and shareholder approvals for our proposed merger with AGL Resources, and we hope to close this transaction as expeditiously as possible."
Key Stats:
Net income has dropped 1.8% year over year on average across the last five quarters. Performance was hurt by a 27.4% decline in the fourth quarter of the last fiscal year from the year earlier quarter.
Competitors to Watch: Piedmont Natural Gas Co., Inc. (NYSE:PNY), Vectren Corporation (NYSE:VVC), AGL Resources Inc. (NYSE:AGL), Atmos Energy Corporation (NYSE:ATO), The Laclede Group, Inc. (NYSE:LG), South Jersey Industries (NYSE:SJI), New Jersey Resources Corp. (NYSE:NJR), Energy Incorporated (AMEX:EGAS), Northwest Natural Gas (NYSE:NWN), and National Fuel Gas Co. (NYSE:NFG)
Stock Performance: Shares of GAS are trading down 0.54% from the previous close.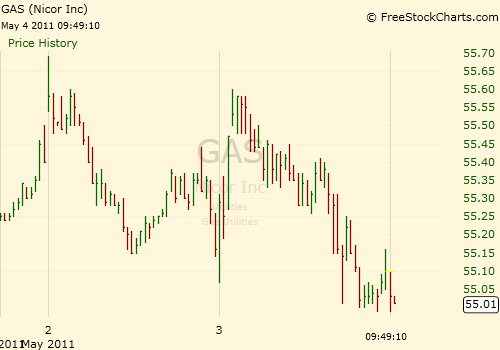 Don't Miss Wall St. Cheat Sheet's newest Feature Trades of the Month!