Nike Aims at Impressive Sales Growth in Next 4 Years and 2 Other Dow Movers to Watch
Nike Inc. (NYSE:NKE): Current price $71.21
Speaking at his company's first analyst meeting in more than two years, Nike Chief Executive Mark Parker announced he foresees the sporting apparel major growing to $36 billion in sales by fiscal year 2017, along with targeting $30 billion in sales by fiscal 2015. That figure was at the top end of the range of $28 billion to $30 billion in sales Nike projected in its last meeting, which was held in June 2011. Analysts have projected that Nike will end this fiscal year with $27.5 billion in sales and $33.2 billion in the year ending May 2017, according to FactSet data.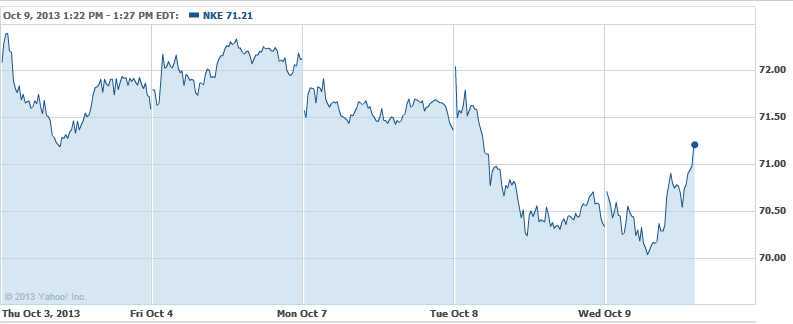 The Boeing Co. (NYSE:BA): Current price $114.99
Theflyonthewall.com reports that Boeing has delivered EL AL Israel Airlines' first Next-Generation 737-900ER airplane. This event represents the first of six 737-900ERs that the Israeli flag-carrier has on order and is the most recent addition to the carrier's all-Boeing fleet.

Wal-Mart Stores Inc. (NYSE:WMT): Current price $73.05
On Wednesday, the retailing behemoth said that it is splitting from its Indian business partner and is not able to go forward with plans for its own retail stores in India due to strict government regulations on sourcing from local small businesses that make it impossible. Wal-Mart did not identify any other Indian partner, which would be necessary to open its own retail outlets, and comments from its top Asia executive indicated that intentions to open its consumer superstores are on hold indefinitely because of government regulations.

Investing Insights: Does Starbucks Have a Bright Future?