Nike Climbs After Analyst Upgrade and 3 Hot Stocks Turning Heads
Regeneron Pharmaceuticals, Inc. (NASDAQ:REGN): Current Price: $171.90
The company has announced that it received from Sanofi (NYSE:SNY) a notification under the Hart-Scott-Rodino Antitrust Improvements Act of 1976, stating Sanofi has intentions to acquire Common Stock of Regeneron via open market purchases and direct purchases from shareholders. Because of this, Sanofi intends that the value of its ownership of voting securities of Regeneron stock will exceed the $500 million HSR Act notification threshold.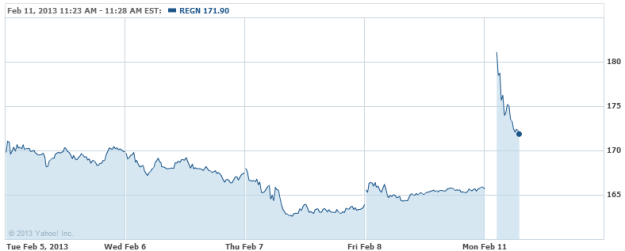 Tesla Motors, Inc. (NASDAQ:TSLA): Current Price: $37.98
During the next few weeks, investors will have the ability to see how Tesla's Model S, the first car the company has designed from scratch, is doing when it reports its Q4 results, according to the Wall Street Journal. A key figure will be the volume of Model S cars it has begun to make weekly. During October, the company was making 200 a week and it needs to make a minimum of 400 a week in order to break even. Tesla has not revealed the number of cars it has delivered to date, but by the end of 2013, it plans to have sold about 3,000. More than 13,000 people have already put down $5,000 deposits.
Are these stocks a buy or sell? Let us help you decide. Check out our Stock Picker Newsletter now.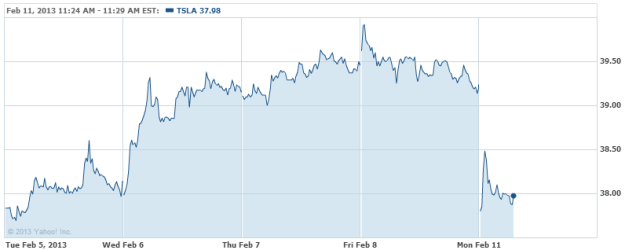 Nike Inc. (NYSE:NKE): Current Price: $55.07
Nike is on the rise after JPMorgan analyst Matthew Boss decided to upgraded the stock to Overweight from Neutral via a note to investors earlier in the day. Nike's revenue is in the position to see an increase due to strong upcoming products along with an expansion of the company's e-commerce initiative over the next several years, Boss wrote. Margin increases are likely to assist the company in raising its earnings per share to $4 to $5 by fiscal 2016, a rise of about 50 percent over three years. Boss continues to be more confident in regards to Nike's outlook following the meeting with its CFO, and he increased the price target to $64 from $50 on the shares. During early trading, Nike saw an increase of 34c, or 0.6 percent, to $54.92.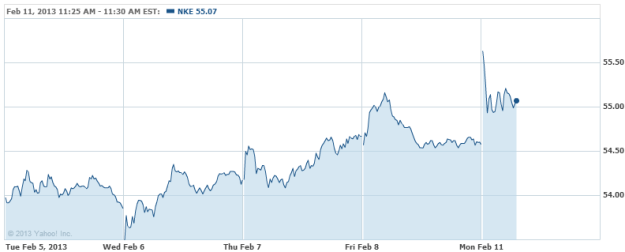 Axis Capital Holdings Ltd. (NYSE:AXS): Current Price: $40.07
As of 10:00 EDT, AXIS Capital trading halted. Further news is currently pending.

Don't Miss: Is Green Mountain a Bargain Here?