Nike's Big Troubles in China Continue with Consumer Snub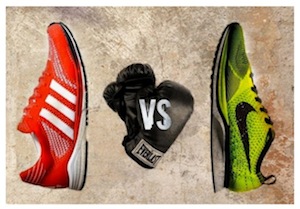 Nike Inc.'s (NYSE:NKE) "Just Do It" slogan is just not cutting it in China, as consumers turn away in droves from established brands to wear more fashionable, hip, and cheap apparel, such as Hennes & Mauritz's range.
Nike is also knee-deep in unsold merchandise from post-Olympics sales. The company entered the Chinese market in 1982, and quickly became the nation's best-selling sportswear brand, which was leveraged by its community engagement activities, including building basketball courts and organizing grassroots competitions.
The company also generously donated funds  to sporting leagues, such as the Chinese Basketball Association and the Chinese Super League Soccer. Eighteen months ago, Nike had a bullish attitude towards China, predicting sales would double to $4 billion in about four years.
Now the company reports China sales will probably fall for the next two quarters, which would make it five quarters in a row that sales have fallen. "You have to be a smarter retailer now," said Camilo Lyon, analyst for Canaccord Financial Inc. in New York, who recommends holding the shares.
"Now the consumer has become more educated and global, and sold to a lot more. Everybody is forced to become sharper," Lyon added. Fortunately, Nike's China troubles have not sparked concern with investors, as North American sales growth remains strong.
Bloomberg reports that in the past year, revenue in the company's largest market surged 18 percent. Through yesterday, Beaverton, Oregon-based Nike advanced 22 percent this year to $62.70, compared with an 18 percent gain for the Standard & Poor's 500 Index.
The stock rose 0.1 percent to $62.79 at 9:34 a.m. today in New York. Analysts expect the shares to rise to $66.03 in the next 12 months, according to the average of 29 estimates compiled by Bloomberg. In the past, Nike executives have blamed the Chinese snub on the country's slowing economy and shift in consumer preferences.
Spokeswoman for Nike, Mary Remuzzi, said in an e-mail, "the company continues to believe it has the right strategy to capitalize on the country's tremendous growth potential." While China made up 9.6 percent of Nike's revenue last fiscal year, the company generated 25 percent of its profits there, before interest and taxes.
Nike is taking measures to regain its footing in China by culling inventory, introducing revamped products, and upgrading merchandising. In May, the company replaced its head China executive, and sales are beginning to grow steadily at its larger retail partners. "Nevertheless, we still have a lot of work to do,"  Nike's Chief Financial Officer Donald Blair said during a conference call with analysts on June 27.
Don't Miss: The Top 10 Brands in America Make Impressive Stock Gains.