No More Lazy Lending: Better Credit Data Means Harder-Working Banks
There is an interesting problem that banks are grappling with right now: the problem of shrinking loan reserves. Around 2010, when banks were hardest hit by surging loan casualties, they had to put aside an enormous amount of money in the form of loan reserves to provide for losses from bad loans. Historically, banks have used a portion of these funds for covering bad loans to bloat their profit books — that is, when a loan would go bad, they would plug the gap with funds from this reserve. The jargon used to explain this method is "releasing loan reserves."
On one hand, this means that the credit quality of banks has improved. Fewer bad loans means that banks have to put aside less money to provide for loan losses. Essentially, the loan reserve pool has been shrinking, but so has the opportunity for banks to release their reserves to show higher profits. The practice thrived around 2010, when loan defaults peaked. The excuse for engaging in the practice was that banks had to maintain bigger loan reserves to provide for bad loans, which was a lingering outcome of the most recent financial crisis.
According to data provided by the Federal Reserve Bank of St. Louis, the average loan reserve ratio has shrunk from 3.7 percent in the first quarter of 2010 to 1.7 percent in the first quarter this year, the lowest since 2008. What is impressive is that the bad loans to gross loans ratio has come down to 2.5 percent in the first quarter this year from 5.6 percent in the first quarter of 2010, Fed data showed.
Bank of America's (NYSE:BAC) reserve release was down to $379 million in the first quarter of 2014 from $804 million in the first quarter of 2013. Total allowances for loan and lease losses at the end of the first quarter were $16.6 billion, down from $22.4 billion a year ago — or down to 1.84 percent of outstanding loans from 2.49 percent a year ago. Annualized net charge-offs as a percentage of total loans, which is a measure of how much bad debt the bank is writing off, fell to 0.62 percent from 1.14 percent of the same period. All this suggests a much healthier credit climate.
Citigroup (NYSE:C) had a loan-loss allowance of $18.9 billion at the end of the January and April this year, down 61 percent from its peak in 2008. According to The Wall Street Journal, the top four banks — J.P. Morgan Chase (NYSE:JPM), Citigroup, Bank of America, and Wells Fargo (NYSE:WFC) — released a total of $1.9 billion in reserves in the first quarter, the lowest quarterly total since early 2010.
Shrinking reserves could become problematic, since it takes the lid off the practice of lazy banking. Now banks will have to depend on the income from their lending operations instead of accounting wizardry to demonstrate good performance. Simply put, they will have to actively lend, understandably in an environment where credit appetite is only slowly picking up, while maintaining a high quality of credit. This is in stark difference to the pre-crisis climate, when lazy lending was rampant.
This was most evident in mortgage lending. The Federal Reserve Bank of Boston summed up the change in attitude in a recent report, saying that "[banks] stopped making 'subprime' loans to households with especially poor credit histories. Households with credit scores (provided by FICO) below 620 — a score that might be triggered, for example, by being 90 days late on a loan payment — essentially lost any access to mortgage borrowing." When those who are likely to default lose access to credit, default rates decline.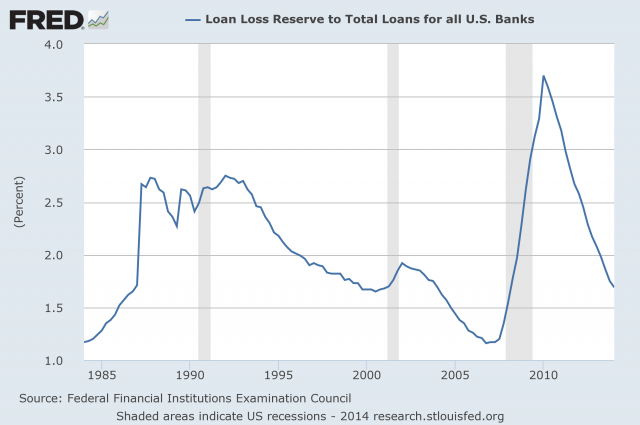 More From Wall St. Cheat Sheet: