No Need for Bernanke in AIG Bailout Lawsuit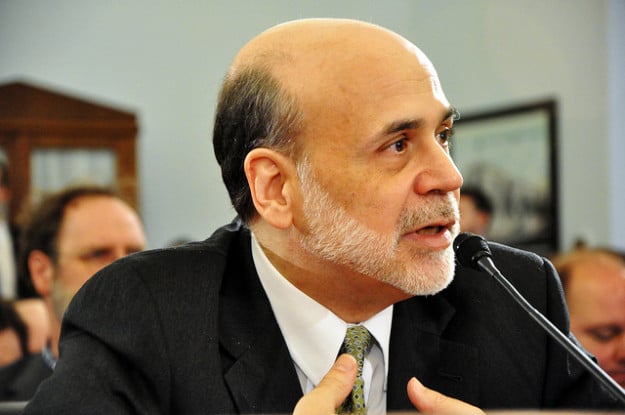 Federal Reserve Chairman, Ben Bernanke, was ruled an unnecessary witness in Maurice Greenberg's — former chief of American International Group Inc. (NYSE:AIG) — Lawsuit against the U.S. Wednesday.
The lawsuit is regarding the 2008 bailout — at the time, when losses were high, the government took a 79.9 percent stake in AIG. It is based on the premise that the bailout went beyond constitutional authority, according to Reuters. Starr took up the suit in 2011, insistant that sharholders were out billions of dollars, and that the government had violated the 5th Amendment.
The federal appeals court ruling stated that the deposition of Bernanke during his time in office would represent a "significant" disturbance to government activity — and this seems especially pertinent in light of the government shutdown. Once the green light is given by Congress, the FR may need all hands fully on deck.
It was one of AIG's biggest shareholders, Greenberg's Starr International Co. — with a 12 percent stake — that was desirous of Ben Bernanke's testimony. "Starr's efforts to inquire into these issues have all the appearance, and vices, of a fishing expedition rather than an effort to establish legally material facts," said the panel.
According to Reuters, the court panel did allow that when Bernanke's term runs out in January, a second, improved attempt to gather testimony could be made. Justifications would have to show "extraordinary circumstances," according to the three judge panel – ABC News. Starr's lawyer, David Boies, said that the company plans to do just that. "We are confident that we can make the showing of the importance of this testimony that the Court requires," said Boies.
Months earlier, Judge Thomas Wheeler of the lower Court of Federal Claims had given the his OK for the deposition, according to The Boston Globe. "The court cannot fathom having to decide this multi-billion-dollar claim without the testimony of such a key government decision-maker," said Wheeler.
Don't Miss: Economic Confidence Plummets as Political Torpedos Fly.