No Surprise: Revised Q2 GDP Shows Same Slow Growth
The U.S. Department of Commerce's third estimate of second-quarter gross domestic product leaves the picture of United States economic growth from April to June much the same: better than the first quarter, but still far too slow. Economists had expected this second revision would boost the second-quarter growth pace to 2.8 percent from 2.5 percent.
In July, the first reading showed the overall level of economic activity in the second quarter of 2013 remained anemic as consumers limited spending to necessities and the federal government continued to cut back as well.
The Commerce Department reported that gross domestic product — the output of goods and services produced by labor and property located in the United States — increased at an annual rate of 1.7 percent from April to June after growing just 1.1 percent in the first three months of the year and nearly coming to a halt at the end of 2012.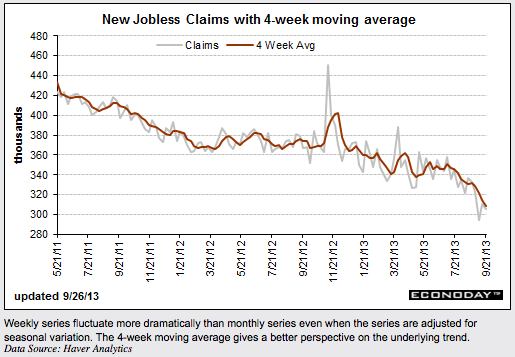 Consumer caution was cited as one of the main reason why economic growth was so low. After rising at a 2.3 percent rate in the first quarter, spending slowed to a 1.8 percent growth pace in the last quarter. Incomes have failed to rebound since the end of the recession, and stagnating incomes mean Americans are more likely to keep discretionary spending to their immediate needs, posing a clear problem for economic growth.
Consumer spending accounts for approximately 70 percent of gross domestic product, and because government and business spending have remained weak, the economy is depending even more on household spending to fuel growth. However, the "second," or revised, estimate of GDP growth showed that economic growth had actually accelerated at a far stronger pace of 2.5 percent.
In part, rising exports and stronger real estate spending helped boost the second quarter numbers, even as lower government spending acted as a drag. The weight of austerity measures — January's tax increases and March's across-the-board spending cuts — were evident in the second quarter with GDP data showing that the economic drag resulting from the federal government's spending cuts was greater than initially estimated.
Driving the growth in the second revision were increases in business and real estate spending. According to the final revision of GDP, the cuts to government spending remained just as deep as originally calculated with expenditures falling 1.6 percent over the three-month period.
Comparatively, in the corporate world, spending was modestly stronger. Business investment expanded at a 4.7 percent pace in the second quarter, more than last month's estimate of a 4.4 percent gain. However, investment in intellectual property, which includes research and development, did decline and corporate profits were revised downward from 2.6 percent to 2.1 percent. Stronger gains came in residential fixed investment, where spending increased 14.2 percent in the second quarter after rising 12.5 percent in the first.
Gains were modestly offset by exports, which grew at a slower pace than previously estimated, although it did reverse a 1.3 percent decline in the first quarter.
Looking back to the first quarter of 2009, when GDP decreased 6.4 percent, Thursday's report shows the extent to which the economy has recovered, even if the recovery has slowed this year. But is also important to remember that the economy is recovery at a slower pace than it has historically. On average, the United States economy has grown at an annual rate of 3.3 percent since 1929.
While the 2.5 percent rate of growth is far better than originally estimated, it is far less than what Federal Reserve policymakers want to see. Last week, the Federal Reserve's Federal Open Market Committee decided to maintain its policy of buying $85 billion in government debt and mortgage backed securities per month because recent data "did not quite meet the standard of ratifying or confirming our basic outlook" of improvement in the job market and wider economy, as Chairman Ben Bernanke explained.
"Economic growth has generally been proceeding at a moderate pace, with continued — albeit somewhat uneven — improvement in labor market conditions," Bernanke said at a later press conference. "The tightening of financial conditions observed in recent months, if sustained, could slow the pace of improvement in the economy and the labor market." The central bank has lowered its growth estimate for 2013 to a range between 2.0 percent and 2.3 percent.
For the Federal Reserve to scale back its monetary stimulus, the economy needs to be growing steadily at a stronger pace. But higher taxes, lower government spending, relatively low business investment, and weak consumer confidence has kept the economy from growing at a rate of 3 percent or more for a sustained period.
Royal Bank of Scotland economists told the Wall Street Journal before the first estimate of GDP growth was released in July that they expected "the pace of activity to pick up over the final six months of 2013, though the magnitude of the acceleration is highly debated." But now the growth story has changed. Already there are signs that economic growth has been weaker in the third quarter. Macroeconomic Advisers have calculated that GDP will expand at a 1.7 percent annual growth rate thanks to weaker-than-expected consumer spending and a downward revision to motor vehicle production in July.
Follow Meghan on Twitter @MFoley_WSCS
Don't Miss: Bank of England Not Panicking Over Housing Bubble Concerns