Noble Corporation Earnings: Not Drilling Profits
S&P 500 (NYSE:SPY) component Noble Corporation (NYSE:NE) posted a decrease in profit as revenue declined. Noble Corp. is a contract driller of oil and natural gas wells. It provides customers in the oil and gas industry with offshore drilling services and engineering and consulting services.
Don't Miss: Wall St. Cheat Sheet's newest Feature Trades of the Month!
Noble Earnings Cheat Sheet for the First Quarter
Results: Net income for Noble Corporation fell to $54.5 million (21 cents/share) vs. $370.7 million ($1.43/share) a year earlier. A decline of 85.3% from the year earlier quarter.
Revenue: Fell 35.5% to $542.6 million YoY.
Actual vs. Wall St. Expectations: NE beat the mean analyst estimate of 18 cents/share. Estimates ranged from 6 cents per share to 33 cents per share.
Quoting Management: "Noble's first quarter results reflect the continuing impact of drilling restrictions in the U.S. Gulf of Mexico," said David W. Williams, Chairman, President and Chief Executive Officer. "However, improving utilization in the rest of the world coupled with our extensive contract backlog afforded us the financial flexibility to expand and extend our newbuild program, adding both high-spec ultra-deepwater and jackup units to the fleet. With several new contracts commencing this quarter and the possibility of increased permitting in the U.S. Gulf of Mexico, we expect contract drilling revenues to improve across the balance of the year."
Key Stats:
Net income has dropped 59.6% year over year on average across the last five quarters. Performance was hurt by an 85.3% decline in the most recent quarter from the year earlier quarter.
Competitors to Watch: Transocean LTD (NYSE:RIG), Diamond Offshore Drilling, Inc. (NYSE:DO), Pride International, Inc. (NYSE:PDE), Hercules Offshore, Inc. (NASDAQ:HERO), ENSCO PLC (NYSE:ESV), Atwood Oceanics, Inc. (NYSE:ATW), Vantage Drilling Company (AMEX:VTG), and Rowan Companies, Inc. (NYSE:RDC).
Today's Performance: Shares of NE are trading down 0.2 percent.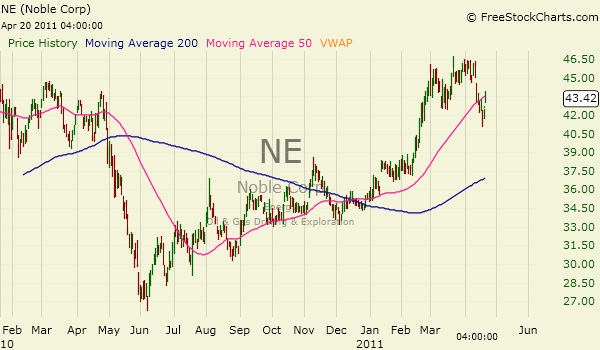 Don't Miss Wall St. Cheat Sheet's newest Feature Trades of the Month!