Nokia Buys Out Siemens's Half of JV and 2 Other Hot Stocks to Watch
Nokia Corporation (NYSE:NOK): Current price $3.89
On Monday, Nokia announced that it will purchase Siemens' half of their joint network operations in a $2.2-billion transaction, which initially pushed its shares up more than 7 percent. Upon completion of the deal in the third quarter, the joint venture between Nokia and Siemens will become a wholly-owned subsidiary of the former. Nokia Siemens Networks had been losing money for multiple years amid speculation and chatter that it was an acquisition target. Concurrently, Nokia also began to have difficulties with its core production of cell phones, causing the loss of its dominant market position. Siemens, with 370,000 employees globally, also has been looking for ways to reduce costs.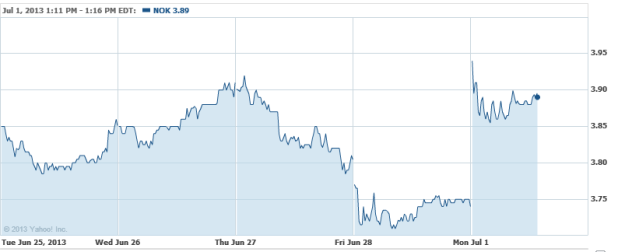 Citigroup (NYSE:C): Current price $48.82
In order to settle potential future repurchase claims on residential mortgage loans that were originated between 2000 and 2012, Citigroup will pay $968 million to Fannie Mae. A large number of the loans were originated during the housing boom in the United States. The mortgage majors Fannie Mae and Freddie Mac purchased mortgage loans from banks such as Citigroup in the run-up to the financial crisis. Fannie and Freddie were shaken when the loans went bad, and they were for all practical purposes nationalized in 2008.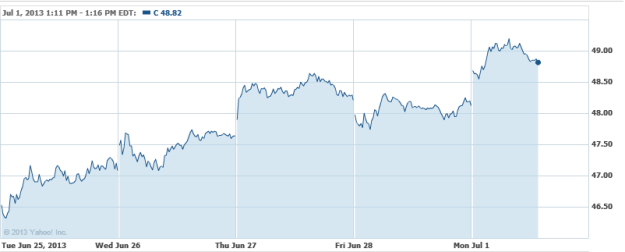 Barrick Gold Corporation (NYSE:ABX): Current price $15.48
Barrick postpones its output target on the Pascua-Lama project to mid-2016, from the second half of 2014, as the firm intends to re-sequence construction of the process plant. Preliminary analysis shows an after-tax asset impairment charge between around $4.5 billion and $5.5 billion in the second quarter. According to this timeframe, and due to difficult market conditions and lower metal prices, Barrick intends to re-sequence the construction of the process plant, along with other facilities in Argentina, so as to target first production by mid-2016.

Don't Miss: Analyst: September iPhone Launch Will Be Apple's Salvation.