Nokia Debuts Its First Tablet, Expands Windows Phone Lineup and 2 Other Hot Stocks to Watch
Nokia Corp. (NYSE:NOK): Current price $7.23
It was announced Tuesday that Nokia is expanding its lineup of Windows phones and debuting its first tablet computer, all equipped with the powerful camera tech also seen in its flagship Lumia 1020 smartphone. The Finnish cellphone maker is using the camera to differentiate its phones from those of its competitors. The Lumia 1020 features a 41-megapixel camera with tech created to produce better low-light shots and offer superior manual controls to most smartphones. These new products will employ Microsoft's Windows system, and appear while Microsoft finalizes its $7.4-billion acquisition of Nokia's phone business and patent rights, which should close early in 2014.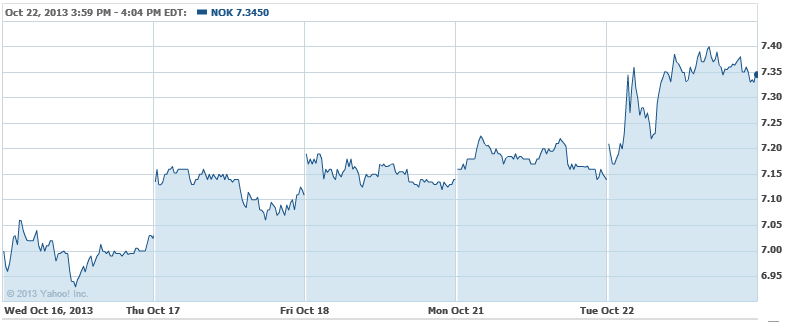 Bank of America Corp. (NYSE:BAC): Current price $14.51
JPMorgan is not the only big bank facing seemingly endless probes from the federal government. Two knowledgeable sources say that Bank of America, which was sued by United States attorneys in August regarding an $850-million mortgage bond, is now faced with three additional Justice Department civil probes concerning mortgage-backed securities. The persons report that U.S. attorneys offices in Georgia and California are looking into potential violations connected with Countrywide Financial Corp., the subprime lender Bank of America purchased in 2008. On top on that, U.S. attorneys in New Jersey are investigating deals involving Merrill Lynch & Co., purchased by BofA  in 2009, say the sources.

Symmetricom Inc. (NASDAQ:SYMM): Current price $7.16
On Monday, it was reported that Summetricom is expected to be bought by Microsemi, in a transaction valued at over $200 million, and the news has pushed the former's shares up by more than 50 percent Tuesday in extremely heavy trading. The Aliso Viejo semiconductor firm Microsemi will pay $7.18 per share for the company, marking a premium of over 50 percent from Symmetricom's close of $4.77 on Monday. Symmetricom may search for a better offer until November 8, but its board unanimously recommended that shareholders accept the Microsemi deal. Symmetricom is a San Jose firm founded almost six decades ago to ensure accurate timekeeping.

Don't Miss: Researcher: Verizon Security Glitch Left Customer Information Vulnerable.