Nokia Doubles Down On HTC Corp and 2 More Heavily Traded Stocks to Follow
Nokia Corporation (NYSE:NOK): Current price $3.65
Nokia has brought additional cases against its competitor HTC Corp., claim that it violated three Nokia patents. In its newest lawsuit, the Finnish firm claims that HTC is selling products in the United States, which would constitute infringement of its terminal, method and computer program patents that are utilized for signaling tags. Nokia also brought a federal suit in Southern California to disallow HTC from violating its patents and has requested unspecified damages. This new lawsuit marks the second complaint to the International Trade Commission, as Nokia had earlier filed cases against HTC for using its power saving tech, which saves battery life when linked with a network. The corporation has filed similar cases against HTC in the United Kingdom and in Germany.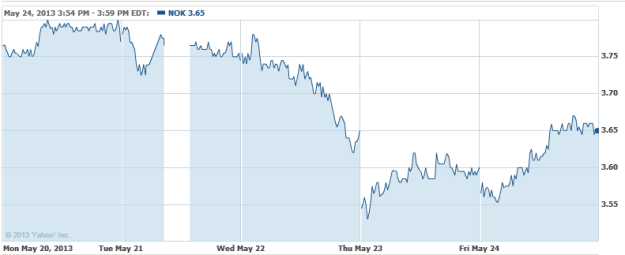 General Electric Company (NYSE:GE): Current price $23.54
General Electric Company and the GE Foundation have now pledged equipment and funding in support of relief and recovery efforts in Oklahoma. The commitment includes GE Healthcare medical equipment and accessories to Norman Regional Hospital, which is experiencing an influx of patients because of the total devastation of Moore Medical Center by the storm. Norman Regional Health Foundation Executive Director Anne Clouse commented that "when a community is literally torn apart by a disaster like this, it  takes a whole other community of support to help us through this crisis. GE's gift of this equipment is both timely and very much appreciated." In addition, GE Foundation also announced a $250,000 donation to the American Red Cross Disaster Giving Program.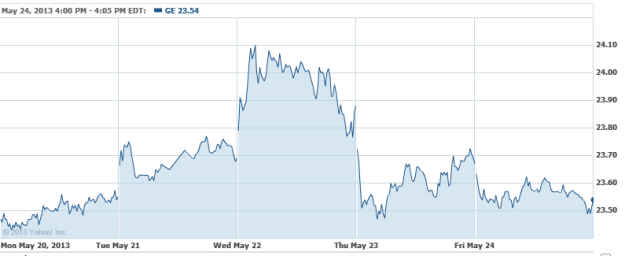 Salesforce.com (NYSE:CRM): Current price $43.25
Shares are down by about 6.5 percent in afternoon trading, after the firm on Thursday posted fiscal first-quarter revenue that surpassed consensus, but offered a weaker-than-anticipated second quarter guidance. The stock was downgraded Friday at Wedbush Securities by Steve Koenig, who lowered his rating to Neutral from Outperform, and reduced his price target from $51 to $42, noting that while Salesforce may continue to add share in customer relationship management during a transposition to cloud computing, the firm "has become big enough that it is now being affected by growing weakness in enterprise demand."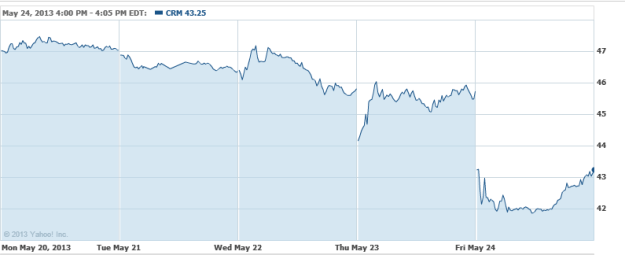 Don't Miss: Google Sets Sights On Amazon's E-Commerce Empire.