Nokia Faces Supply Issues in China and 3 Heavily Traded Shares Not to Miss
BlackBerry (NASDAQ:BBRY): Current price $16.87
Shares of the Smartphone maker BlackBerry move up subsequent to being upgraded by the Wells Fargo analyst Maynard Um from Market Perform to Outperform in a note to investors earlier on Thursday. The analyst stated that the firm's gross margins should grow as it sells more devices that feature its new BB10 operating system. The stock's risk to reward ratio is currently positive as the shares already have it built in that BB10 will meet "some level of failure."

Dell (NASDAQ:DELL): Current price $13.45
The now-famous $24.4 billion transaction to take Dell private is an example of what is possible in the leveraged-buyout market, but it does not necessarily herald a return of the megadeals that were popular prior to the financial crisis. Bankers, private-equity executives and analysts opine that the deal possesses atypical components and will thus make its size difficult to replicate, according to the Wall Street Journal.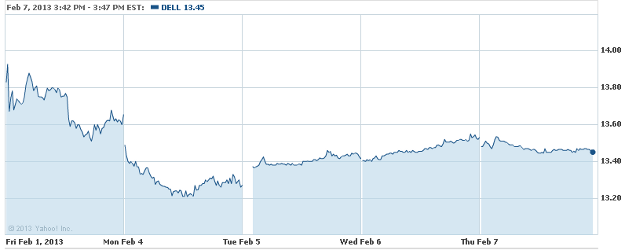 Sirius XM Radio Inc (NASDAQ:SIRI): Current price $3.14
Automotive subscribers may well be the source of Sirius XM's growth and that factor hugely relies upon the broader trend in domestic vehicle sales. The automotive market growth is being aided by higher availability of financing and lease deals. Overall auto sales in the United States stood at roughly 14.5 million last year and are expected to top 15 million in 2013.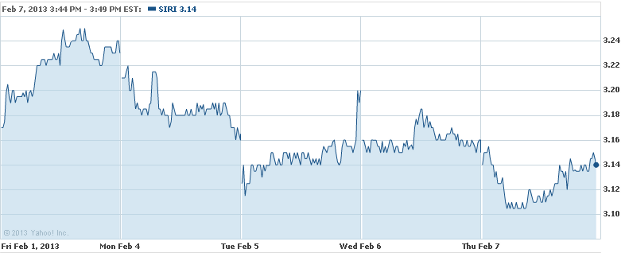 Nokia Corporation (NYSE:NOK): Current price $4.08
A Bloomberg report says that the Nokia Lumia 920T faces serious supply problems in China. China Mobile now sells Lumia 920 for around $738 per device and reported that most of their stores have no Lumia 920Ts in stock. This equates to Nokia not getting in on next week's holiday season because of delivery constraints. A China Mobile spokeswoman said that Nokia supplied a mere 30,000 units until January 30th, while 90,000 Lumia 920T models were ordered. This is not helpful to the firm as it loses the market to its competitors in the biggest handset market in the world.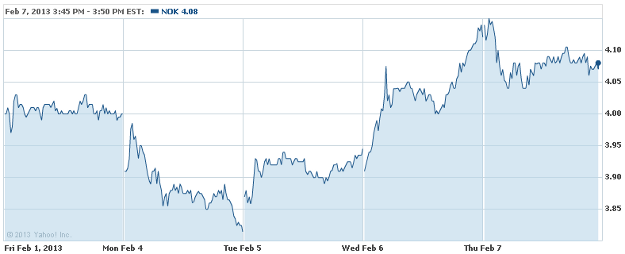 Don't Miss: Can BlackBerry Quash Windows Phone Growth?